Fayetteville Car Accident Lawyer
According to Arkansas Online, 638 fatal car accidents occurred in Arkansas in 2020. This is an increase from 2019's 511 total car accidents. The top reasons for fatal vehicle crashes were speeding, drinking, and lack of seatbelt use.
In 2019, Arkansas witnessed 467 fatal crashes on state roads and 505 deaths. Car accidents, SUVs and pickups, large truck occupants, and motorcyclists accounted for 425 deaths of those deaths. Nationwide, 36,096 fatal motor vehicle crashes occurred.
If you or a loved one sustained severe injuries from a car accident in Arkansas, speak with a Fayetteville accident lawyer at the Law Offices of Jason M. Hatfield. The first meeting is a free consultation. You can discuss your car accident and find out if you have a case. We will walk you through the next steps and develop a game plan. Call us today at (479) 361-3575.
Do I Need a Lawyer for a Car Accident?
Insurance companies usually throw up significant roadblocks for you when you attempt to file a claim on your own. They realize you do not have an attorney and often go out of their way to downplay or dismiss claims. They may even try to rush you into a settlement to close the books on the case. Be wary of signing anything an insurance company wants you to sign, as you may be signing away your legal rights.
Do not delay seeking legal advice or retaining an attorney. The longer you delay, the more difficult proving your case becomes. The longer you wait to start filing a personal injury claim, the higher the chances are that the evidence of the crash has been destroyed or vanished.
Having legal counsel can increase your compensation – a significant benefit if you have high medical costs, have lost wages, cannot return to work, and may be facing a permanent disability requiring long-term care. Awards and settlements may be up to 3.5 times higher for accident survivors with legal counsel. 
After a crash, it is best to speak with a Fayetteville car accident attorney. The first consultation is free, and you find out if you have a case, what to expect and how it may turn out.
A Guide to the Car Accident Process
Steps To Take After a Fayetteville Car Accident
It is crucial to preserve evidence after an accident. Do what you can if you are not critically injured. The following steps are:
Call 911 and obtain a police report.
Do not place blame on anyone or admit fault.
Speak only to your attorney if you have one, or hire one as soon as possible.
Exchange contact information, insurance policies and driver's licenses.
Record or write down what you recall about the accident.
Do not provide verbal or written statements to the insurance companies. Talk to your attorney.
If you do not have an attorney, find an experienced Fayetteville car accident lawyer to represent you quickly.
File a lawsuit. The latest you can file is three years from the date of the accident.
Dangerous Roads and Highways in Arkansas
The most dangerous road in the state is Highway 25 in North Central, Arkansas. A deadly accident occurred every 10.75 miles on Highway 25 in 2020, and in 2019, a fatal crash happened every 14.3 miles. Highway 25 is 86 miles from Conway to Black Rock.
With 22 deaths in 2020, the second most dangerous road was Highway 62, with a vehicular fatality every 14.9 miles. Highway 62 runs through Bentonville, Fayetteville, Eureka Springs, Yellville, and Mountain Home.
Other Dangerous Arkansas Highways Include:
Highway 412 – A death was recorded every 17.9 miles, making it the third most dangerous road in the state in 2020
Highway 71 – A fatality occurred every 18.2 miles in 2020, making it the 4th most dangerous stretch of highway
Highway 67 – The fifth most deadly road.
Other highways found throughout the state include Highway 63, Highway 70, Highway 65, Highway 64, Highway 7, Highway 1, Highway 270, Highway 167, and Highway 79. If you have been involved in a serious highway multiple car pile-up crash, seek medical attention and contact our Fayetteville car accident attorneys today.
Common Injuries from Car Accidents in Fayetteville include:
Brain, Head, Face Injuries
Broken Bones
Fractured Bones
Sprains
Strains
Amputations
Crush Injuries
Post-Traumatic Stress Disorder (PTSD)
Soft Tissue Injuries
Neck Injuries
Back Injuries
Brain Injuries
Bruising
Scrapes and Cuts
Spinal Cord Injuries
Paralysis
Chest Injuries
Shoulder Injuries
Internal Injuries
Psychological Trauma
Burns
Types of Car Accidents in Fayetteville, AR
Car accidents are never the same, and each differs depending on the circumstances. The types of car accidents that can occur are:
Rollover Accidents – Extremely serious and can cause the driver's death and any passengers.
T-Bone Collisions – Side-impact crashes can result in severe injuries.
Sideswipe Crashes – When both vehicles are traveling in the same direction. These can be minor to severe.
Rear-End Accidents – A car, SUV, pickup truck, or 18 wheeler hits another vehicle from behind. The speed of the crash is a significant factor in the seriousness of injuries sustained.
Single-Vehicle Crashes – Involve a driver running into a stationary object such as a light pole, tree, fire hydrant, or a parked car.
Head-On Collisions – A car or truck strikes another vehicle from the opposite direction. In some cases, these accidents can be fatal.
It is essential to know that Arkansas is an "at fault" state. The person responsible for the accident is also liable for any damages they caused. An at-fault insurance policy covers damages and injuries to car accident survivors. 
Arkansas is also a modified comparative negligence state. It has a 50 percent bar rule. If an accident survivor is 50 percent or more at fault for a collision, they are barred from recovering compensation for injuries. When a crash survivor is not more than 49 percent at fault for the crash, they may recover compensation for their injuries, with an award being reduced by their percentage at fault. 
Common Causes of Fayetteville Car Accidents
By far, the most common cause of car accidents is distracted driving. The driver is not paying attention to where they are going and is not driving with due care and attention. Nothing good happens when a driver is distracted from paying attention to the road.
Speeding – When a driver operates a vehicle over the recommended speed limit in a specific area. The faster a driver travels, their reaction time alters and can cause a severe accident.
DWI/DUI – Drinking alcoholic beverages or being under drugs impairs a driver's cognitive ability and senses.
Poor Weather – Snow, rain, hail, sand, and dust storms affect visibility and proper navigation on roads and highways.
Reckless Driving – Speeding, tailgating, sudden lane changes, or cutting other drivers off is considered reckless driving.
Running Traffic Signals – When vehicles run stop signs, red lights, and fail to yield for other cars.
Improper Lane Changes – Other drivers are cut off by another car without warning.
Wrong Way Driving – If a vehicle turns and starts driving on the wrong side of a highway or street, a serious accident can occur.
Improper Turning– Not using the correct turn lane and cutting across traffic to merge into another driving lane.
Night Driving – Visibility is greatly diminished at night. Drivers can have vision impairment due to bright lights or lack of street lights.
Vehicle Design Defects – Manufacturers can have defective products due to poor design. A vehicle could have a known recall. If the owner does not fix it, it can potentially cause more damage in a car accident.
New Drivers – As teenagers receive a permit or license, they are considered high-risk drivers. By having no years of experience, they can be unaware of potential threats on the road and drive recklessly.
Road Rage – Whether another vehicle cut off, tailgated, or raced another car, either party could become enraged with unpleasant emotions. Drivers with short tempers have caused hundreds of accidents due to road rage.
Exhausted Driving – Truck Drivers or long distanced drivers can become fatigued after several hours on the road. If proper rest stops are not taken, a serious or deadly accident can occur.
Proving Negligence in a Fayetteville Car Accident
There are four elements to prove negligence in a Fayetteville car accident.
1. The plaintiff – the person who files a claim – has to prove that the defendant owed a duty to them in the situation.
2. The duty was breached by the defendant acting or failing to act in a certain way.
3. The defendant's actions caused the plaintiff's injuries.
4. The plaintiff was injured or harmed due to the defendant's actions. 
Damages are also a part of filing a claim for a car accident. The plaintiff can be awarded compensation for damage to their vehicle and other expenses, such as medical bills. It's best to seek medical attention as soon as possible. Developing a treatment plan and speaking with an experienced Fayetteville lawyer near you is the best next step.
Damages in a Fayetteville Car Accident
There is no set amount of compensation awarded to a plaintiff in a Fayetteville car accident. Each case is unique. Each case has different injuries. Each case was the result of a different situation and set of circumstances.
A plaintiff may be able to seek varying amounts of compensation based on the severity of the crash, how severe the injuries are, whether or not the injuries can heal in due time or whether they are permanent and require long-term care, who is at fault and what proportion of the fault is assigned to them.
If you or a loved one have sustained life-altering injuries from a car accident in Arkansas, contact our team today. We will review your evidence, medical records, and prepare a treatment plan. Let us help you through a difficult time while you take the time to heal.
Arkansas Car Accident Fact Sheet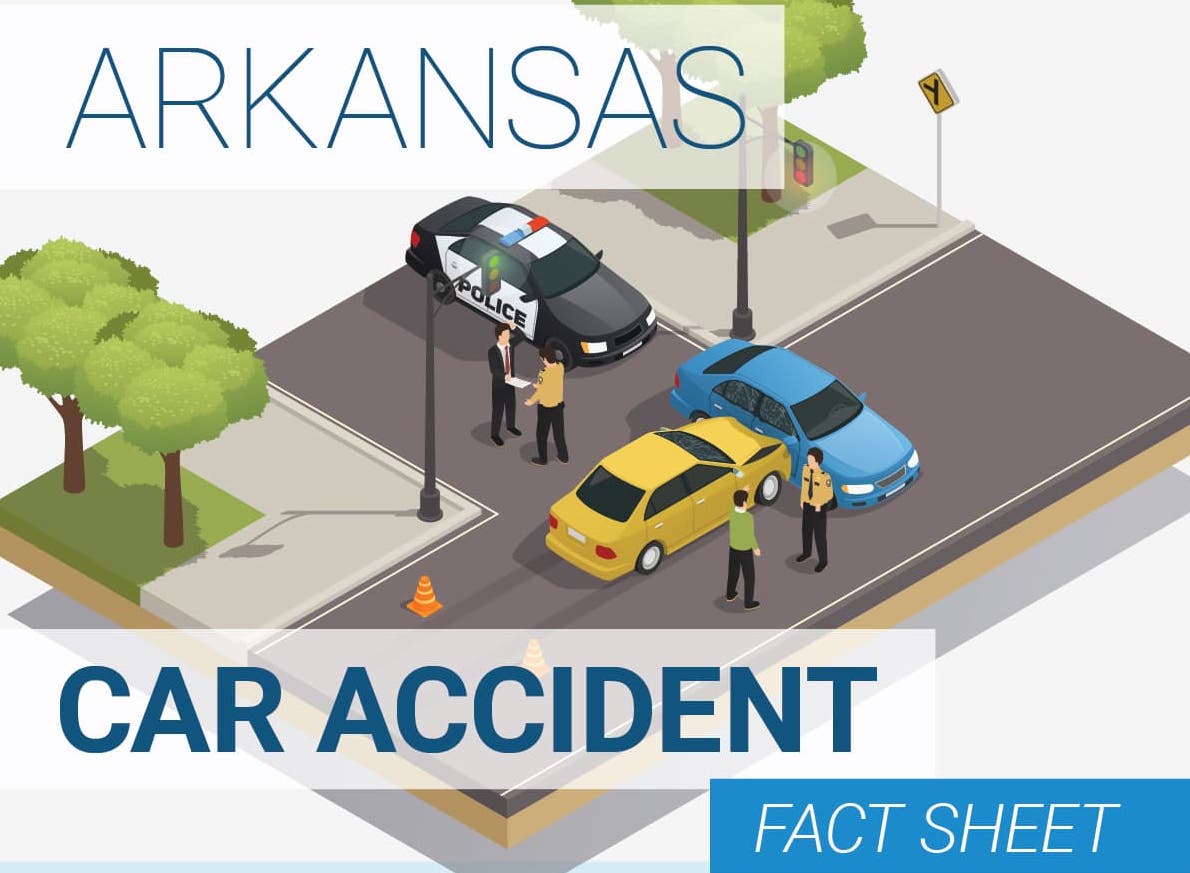 Contact the Law Offices of Jason M. Hatfield Today
A Fayetteville car accident attorney at the Law Offices of Jason M. Hatfield can assess and estimate the number of damages. The amount may vary based on medical evidence, the ability to heal, whether surgery is required, and if rehabilitation is expected to be short or long-term. Whether or not the insurance company offers a fair and equitable settlement is also a factor to consider.
The Law Office of Jason M. Hatfield, P.A. represents Fayetteville car accident survivors and those who have lost a loved one in a crash from all over Northwest Arkansas, including Fort Smith, Springdale, Fayetteville, Rogers, Bentonville, Berryville, and Harrison.