Fort Smith Car Accident Attorneys
A single moment has the power to turn your life upside down. All it takes is one glance off the road, a drunk motorist running a red light or a fatigued truck driver falling asleep behind the wheel to cause a devastating car accident. When you and your passengers are injured in a crash, you need a Fort Smith car accident lawyer to pursue just compensation on your behalf.
The road to recovery after a crash can be a long one. You may have to spend time in the hospital and miss weeks of work. You may be unsure of how to pay piles of medical bills or care for your family. Filing a car accident claim allows you to recover compensation to cover all your costs.
When you are injured in a crash, the Law Office of Jason M. Hatfield, P.A. is ready to help you with your injury claim. We understand the concerns you are likely to have after a devastating collision. An experienced and compassionate Fort Smith car accident lawyer is available to answer all your questions. Call (479) 361-3575 for a risk-free consultation.
What Are Some Common Causes of Car Accidents in Fort Smith?
Car accidents are one of the leading causes of preventable injury in Arkansas. The first six months of 2020 alone saw at least 282 traffic deaths on state roads, marking a 16 percent increase from the same period in 2019. According to the Centers for Disease Control and Prevention, Arkansas had the nation's sixth-highest rate of motor vehicle accident fatalities per capita in 2018, the most recent year for which data is available.
Fort Smith is located in Sebastian County, which recorded 382 motor vehicle crashes from 2015 to 2019. Of those, 330 were suspected serious injury crashes. When drivers behave negligently behind the wheel, they can be held liable for car accidents that injured another driver, passenger, motorcyclist, bicyclist or pedestrian. Our law firm handles a wide range of car accident cases, including:
• Distracted driving
• Drowsy driving
• Drinking and driving
• Speeding
• Head-on collisions
• Rear-end collisions
Irresponsible behaviors like driving under the influence of alcohol or drugs are a threat to the safety of others on the road. A Buy Auto Insurance study ranked Arkansas the seventh-worst state for drunk driving in the country. There are nearly six fatal drunk driving accidents per 100,000 residents in Arkansas. From 2016 to 2018, the state saw an increase in drunk driving accident deaths despite a nationwide decline during that period.
No matter the type of car accident you get injured in, the Law Office of Jason M. Hatfield, P.A. can help you obtain the compensation you deserve from the at-fault driver. We have been representing injured crash victims for more than 20 years and know how to stand up to aggressive insurance companies.
The Most Dangerous Roads in the Fort Smith, Arkansas Area Infographic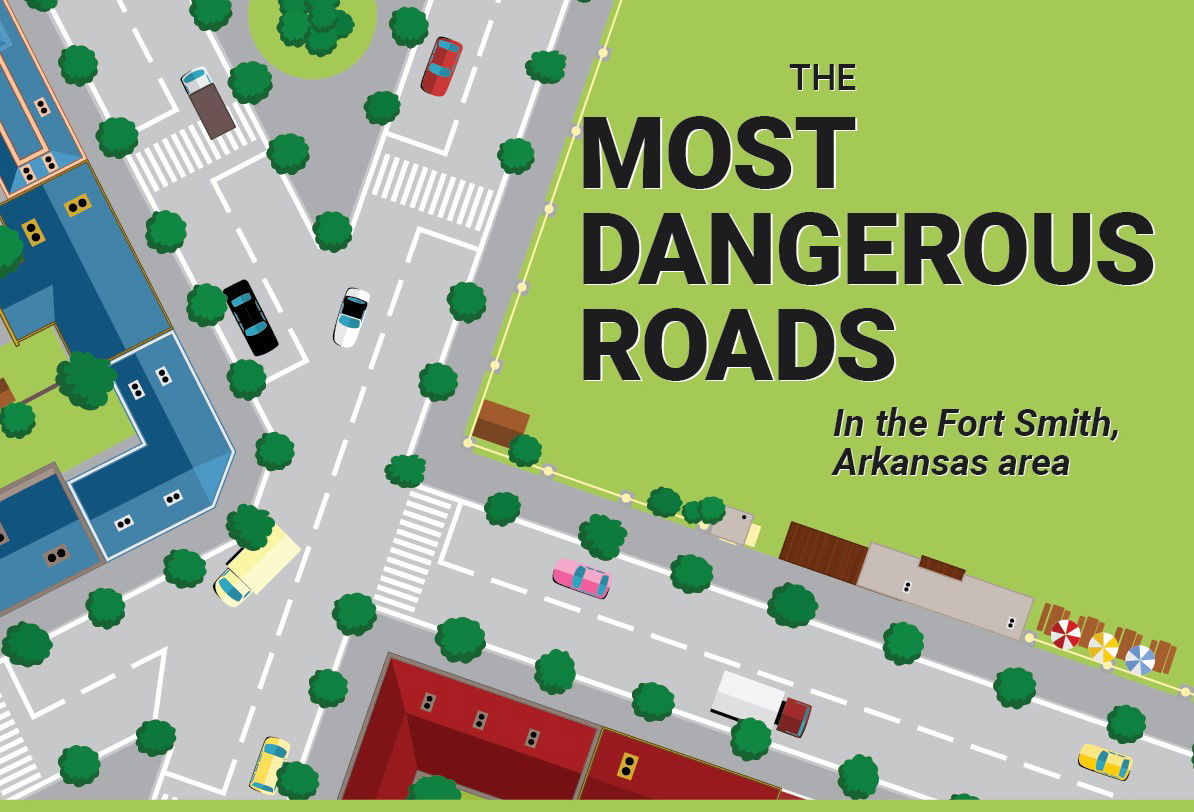 What Damages Will I Get in My Car Accident Claim?
When you choose our law firm to handle your claim, we will work hard to make sure you receive maximum compensation. Here are some types of damages your Fort Smith car accident attorney will pursue:
• Lost wages
• Reduced earning capacity
• Medical expenses
• Therapy and rehabilitation costs
• Pain and suffering
Your insurance settlement should cover the damages you sustained. However, if a fair settlement cannot be negotiated, your lawyer may move forward with a lawsuit. We will initially try to settle your car accident claim out of court as going to trial is expensive and time-consuming. Whatever the circumstances, our law firm will always act in your best interests.
How Much Is My Fort Smith Car Accident Claim Worth?
The settlement amount in a car accident claim differs from case to case depending on who is at fault and how severe your injuries are. When you contact the Law Office of Jason M. Hatfield, P.A., you will get a free consultation with one of our dedicated Fort Smith car accident lawyers. An attorney will examine the details of your case and determine its value based on the information you provide and available evidence.
Our service fees are on a contingency basis. This means that if you hire one of our attorneys, you only have to pay if we win your case. You do not pay anything if we are unsuccessful in getting you compensation. Please note that as our client, you may have to cover certain expenses regardless of the outcome.
Proving Fault in a Fort Smith Car Accident
Under Arkansas law, car accident victims can recover damages when they can prove the other party involved in the crash was negligent. Damages are awarded based on the percentage of fault assigned to each party.
The state uses a modified comparative fault rule, which means if the car accident victim is partly responsible for the collision, the compensation they receive will be reduced by their share of fault. For example, if you were 30 percent to blame for the crash, your compensation will decrease by that amount. You will be barred from recovering any money if your share of fault is 50 percent or more.
The other party may try to shift the blame on you, or the insurance company may act in bad faith by offering a lower settlement to individuals without legal representation. That is why it is crucial to speak with an experienced Fort Smith car accident attorney who can take prompt action in your case.
When you hire the Law Office of Jason M. Hatfield, P.A., our firm will collect evidence to strengthen your claim. We use everything from phone records to input from accident reconstruction experts to uncover signs of negligence. Our car accident lawyers will not back down in the face of insurance companies that seek to diminish your claim.
Why Do I Need a Car Accident Lawyer?
If you were injured in a Fort Smith car accident, a lawyer can significantly increase your chances of getting maximum recovery for all your crash-related costs. Your car accident attorney will deal with insurance adjusters on your behalf to ensure the claim is settled to your satisfaction.
With a car accident lawyer representing your interests, you will be compensated fully for your losses, including current and future medical expenses. The insurance company is likely to view you more seriously and be prevented from taking advantage of you.
If your insurance claim is denied, your attorney can file a personal injury lawsuit to pursue damages. The law firm will handle everything from presenting solid evidence for your case to taking care of the paperwork. That way, you can focus on your recovery rather than worrying about complex legal proceedings.
Key Steps to Follow Right After a Car Accident
Being involved in a car accident means dealing with painful injuries, emotional distress and vehicle damage. At the Law Office of Jason M. Hatfield, P.A., we understand the confusion and panic that can arise following a serious collision.
One of the first things you should do after a crash is seek medical attention. See a doctor immediately, even if you feel okay and do not have severe visible injuries. The shock from a collision can sometimes mask the pain and underlying injuries for days.
We also recommend calling the police right away after a car accident. Officers will create a report with details about your Fort Smith car accident, which will be helpful when filing your insurance claim for compensation.
Collect as much information as you can, including the contact details of the other drivers involved. Take photos of the accident scene and vehicle damage. Talk to witnesses who saw the collision.
Report the car accident to your insurance company. While you may expect your insurer to accept the claim and give you your money promptly, things do not always go that smoothly. You can benefit from contacting an experienced Fort Smith car accident lawyer who can help with your claim.
Arkansas Car Accident Fact Sheet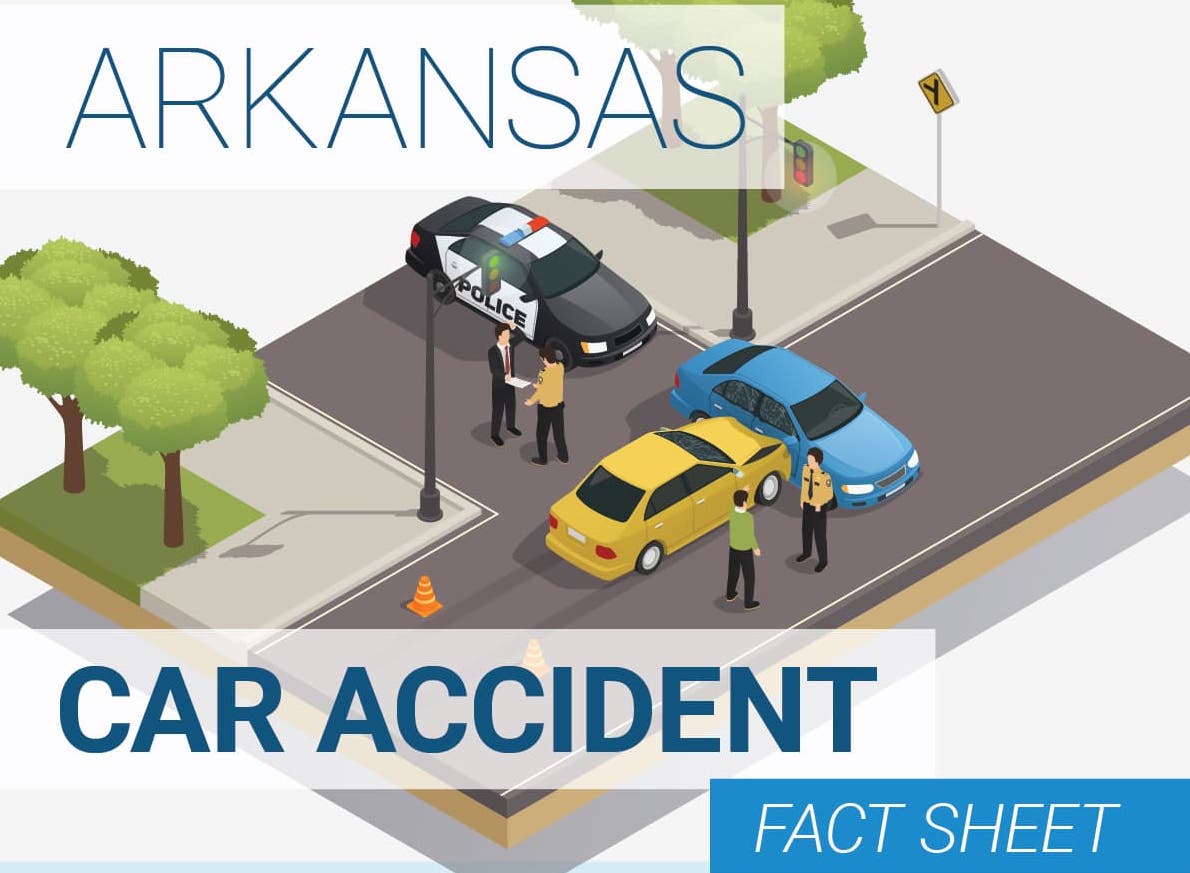 Contact the Law Office of Jason M. Hatfield for Assistance
We understand the challenges that come with being injured in a serious car accident. Let an experienced Fort Smith car accident lawyer handle your claim, so you focus on healing from your injuries rather than dealing with insurance companies. The Law Office of Jason M. Hatfield, P.A. has more than 20 years of experience helping car accident victims throughout Northwest Arkansas, so you can rest assured your case will be in good hands.
Call us at (479) 361-3575 to schedule your free consultation. Contact us today to get the best Fort Smith car accident lawyer protecting your rights. Our compassionate team of car accident attorneys is here to listen to what happened. We believe the more we know about your crash, the better equipped our office will be to help you on your road to recovery.