In the blink of an eye, your entire world can turn upside down. A driver responding to a text message, a truck driver failing to slow down for road construction or a drunk driver may cause serious or fatal injuries to you and your passengers. When this happens, you need a Springdale car accident lawyer to fight for your right to fair compensation.
Thousands of car accidents occur every day on the highways and roads of Arkansas and, no matter how safe a driver you are, chances are that you or a family member will be seriously injured in an auto accident at some point in your life. Afterward, you will have to speak with the police, seek medical treatment and deal with the insurance companies, all while still trying to make sure your family is taken care of and bills are paid. Let a Springdale personal injury lawyer handle the rigorous process of filing a claim so that you can focus on recovering physically.
"I was involved in a car accident in which I lost my Mother. I called Jason to get legal advice, but could not go to his office due to my injuries. Jason came to our home to get the information and took care of everything for us from that point on. He was very professional and kept us informed of the status of our case. Jason was able to get us a fair settlement and I am very grateful." — As submitted to lawyers.com
When the unthinkable happens, call the Law Office of Jason M. Hatfield, P.A. at (479) 361-3575 for experienced and compassionate legal assistance with your injury claim. We provide risk-free consultations to all prospective clients, allowing them to get answers to their questions from a lawyer who has seen it all.
Do I Have To Pay Out of Pocket for a Springdale Car Accident?
You can have a free consultation session with one of our professional car accident attorneys. You can have a sit-down with an expert who'll evaluate your case and determine how much it might be worth. Your attorney will seek to find out more about your case by asking you questions and check the information you have.
In case you choose to hire one of our lawyers, our service fees are on a contingency basis. This means that you pay after and only if your case is won. If we don't succeed in getting you any sort of compensation, then you do not pay anything. Remember that, as our client, you will have to handle some of the expenses in spite of the outcome. We may approach you to provide payment for these expenses as we handle your case.
Should I Hire an Auto Accident Attorney
In case you have been involved in an accident and sustained injuries, then you should seek the assistance of an attorney immediately. Your lawyer is ready and willing to deal with the insurance company on your behalf. They will strive to ensure that your claim is settled.
Your lawyer will insist that you are compensated for your losses. This may include compensation for any current medical and future medical expenses. In case your insurance claim is denied, then your attorney will pursue a personal injury lawsuit on your behalf.
Your attorney will not only deal with the insurance adjusters, but they'll also handle the defendant's lawyers in case a lawsuit is filed. In order to support your case, they'll gather all the necessary evidence. This way, you will be able to focus on your recovery as your Bentonville car accident attorney takes care of the paperwork and the other complex legal procedures for you.
What Steps Should Be Taken After a Car Accident?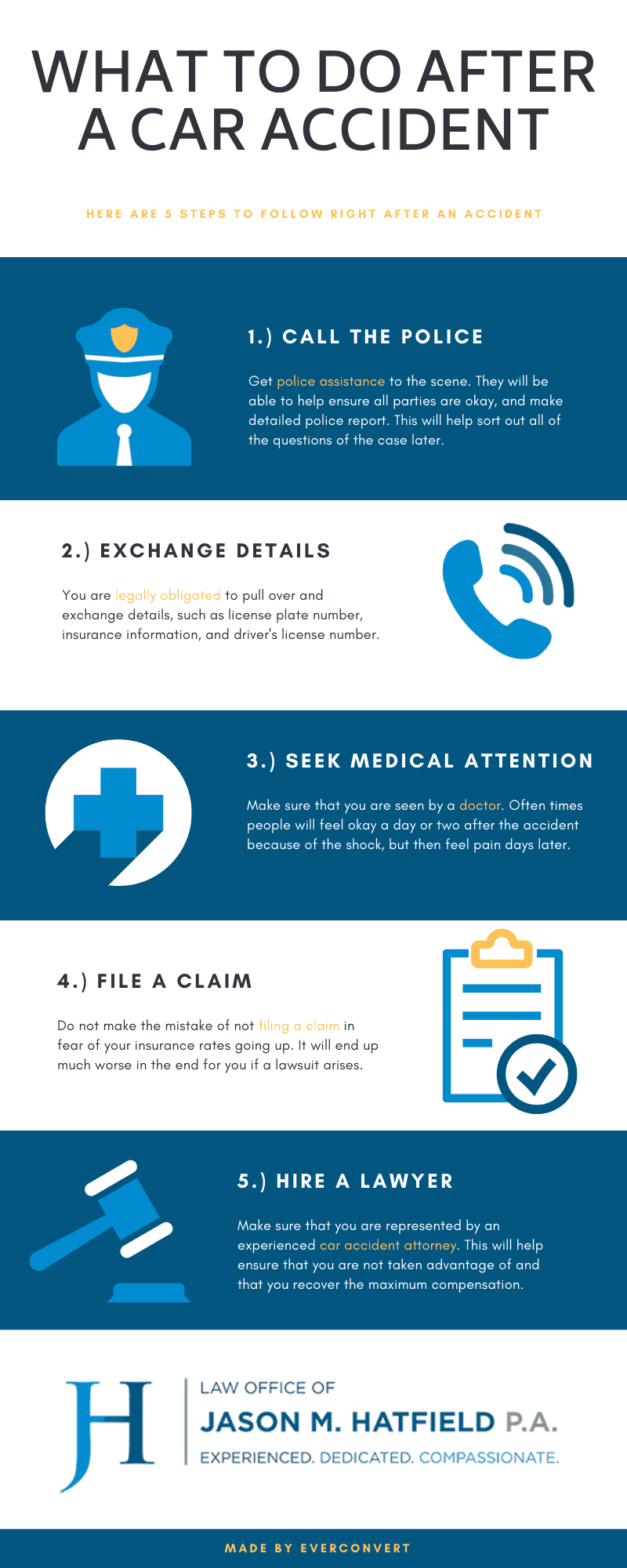 Have you been involved in an auto accident? Then there are various things that you need to do. You have to ensure that you get the required medical attention. You'll also want to file an insurance claim. In an ideal situation, your insurer will accept your claim and within a week or so, you'll receive your money. However, this isn't always the case.
In order to successfully file your claim, then you'll need certain information. This is why contacting the police immediately after an accident is usually recommended. The information contained in the police report regarding your Bentonville car accident will be very useful when filing your claim.
Even as you await the police, take it upon your self to collect as much information as you can. Capture photos of the accident scene and the vehicles involved. Speak with the available witnesses and find out what they know. Also, collect the information and licenses of the other cars involved.
The insurance company will require you to provide all this information when you file your claim. The insurance adjuster will examine your claim and determine whether compensation is in order. The adjuster also checks the policy limits to ensure that it covers your injuries.
The adjuster will ensure that you are compensated for medical expenses and car repairs after which fault is assigned for the accident. Hence, one of the following will take place:
They establish that the other driver was 100% at fault
They establish that you were 100% at fault
They establish all drivers involved were partially at fault
After they've established fault, they'll inform you of the amount you are to be awarded. In case you feel that the settlement amount is unfair, then your Bentonville accident lawyer will appeal the claim. Having professional legal assistance on your side during the claim process tilts the balance in your favor. When you hire a lawyer, the insurance company is bound to take you more seriously. Your rights will also be protected and the insurance company won't be able to take advantage of you. Considering that the attorney has years of experience handling such cases, they'll negotiate fiercely to ensure that you are fully compensated.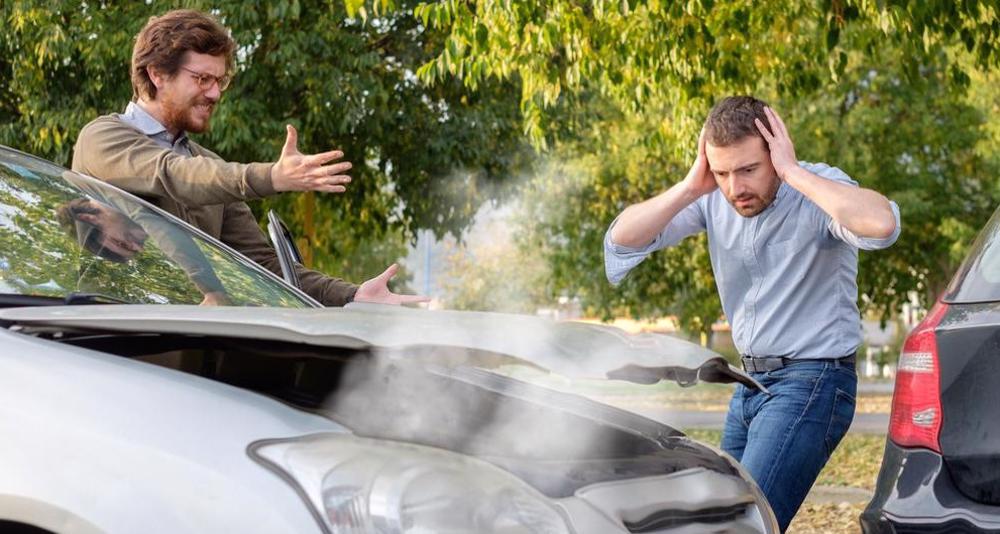 What Kind of Compensation Can I Get for My Car Accident?
Your Bentonville auto accident attorney is going to work hard to ensure you receive the compensation you are entitled to. In case you sustained serious injuries, then you deserve to be paid for certain damages. Preferably, your insurance settlement will cover these damages. But in case your attorney is unable to negotiate a fair settlement, then they may need to file a lawsuit.
Here are some of the damages that your lawyer will request:
Lost wages
Reduced earning capacity
Present and future medical expenses
Rehabilitation and therapy expenses
Physical and emotional pain and suffering
Your lawyer will continuously fight for your case, in spite of whether you file a lawsuit. Often, car accident claims are settled way before they head to trial. Essentially, no party usually wants to go to trial as such cases are usually expensive and take a lot of time. Hence, it is best for everyone to seek a settlement out of court.
What is the Average Settlement Amount in a Car Accident Case?
It is worth noting that circumstances surrounding auto accidents differ from one case to the other. Therefore, predicting how much a case is worth is usually difficult. That's why your Arkansas car accident lawyers have to first examine your case and check the evidence. Regardless, it all boils down to the who's at fault and the extent of your injuries.
Proving Fault in an Arkansas Car Accident
While another driver is usually responsible for causing a vehicle accident, he or she may not always shoulder the full responsibility. Arkansas law allows victims of accidents to recover damages when they can prove that the other party was negligent and damages are awarded based on the circumstances of the case.
In Arkansas, damages are awarded based on the percentage of fault assigned to each person or company involved in the accident. Arkansas has implemented a Modified Comparative Fault Rule. This rule states that if the victim of a vehicle accident is partly responsible for the accident, the compensation they may receive will be reduced by their level of fault.
Therefore, if the victim was 25% at fault for the accident, the reimbursement they are awarded will be decreased by that amount. However, if you are found to be either 50% responsible or more for the resulting accident then you will be barred from recovering any compensation for your injuries or damages. That's why it's important to speak with an experienced car accident attorney. Contact our office for your free consultation. We will discuss the specifics of your case and quickly take action to ensure you get the compensation you deserve.
Proving Liability in an Arkansas Car Accident
When we take a car accident case, our office collects as many facts as we can about the accident. We can reach out to accident injury experts, reconstruction experts, and other specialists who can provide key information to help win your case.
Many times, we find evidence that strengthens our case against the defendant, such as phone records, driver logs, insurance information, and social media account information. We can also uncover evidence of negligence against other defendants involving manufacturing defects, employers of negligent workers, or road construction hazards. Other times, we may obtain information about illegal driving activities.
Our law firm handles all types of auto accident cases including those that involve, professional drivers, truck drivers, uninsured or underinsured motorists, individuals engaging in illegal driving activities, and wrongful death.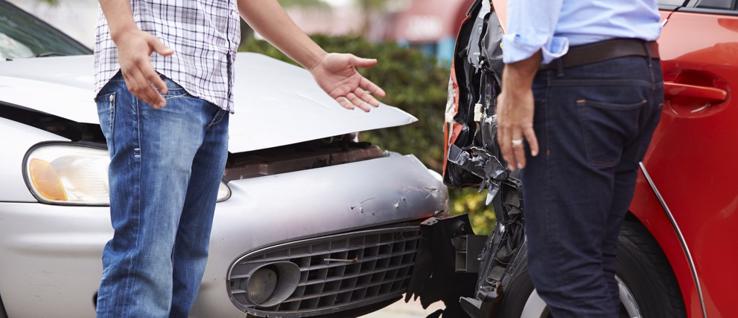 Dealing with the Insurance Company
In addition to proving fault and pursuing actions against the liable parties, the Law Office of Jason M. Hatfield, P.A. presents the best arguments and evidence to insurance companies in order to obtain the maximum recovery of benefits for your injuries. Auto insurance companies handle thousands of car accident claims a day.
While the insurance adjuster may sympathize with your situation, they ultimately follow protocols to deny your claim and offer lower settlements to unrepresented individuals. Insurance adjusters are audited to ensure that they do not overpay any claims. Our injury attorneys negotiate with and take action against insurance companies that act in bad faith after an automobile accident.
Arkansas Car Accident Fact Sheet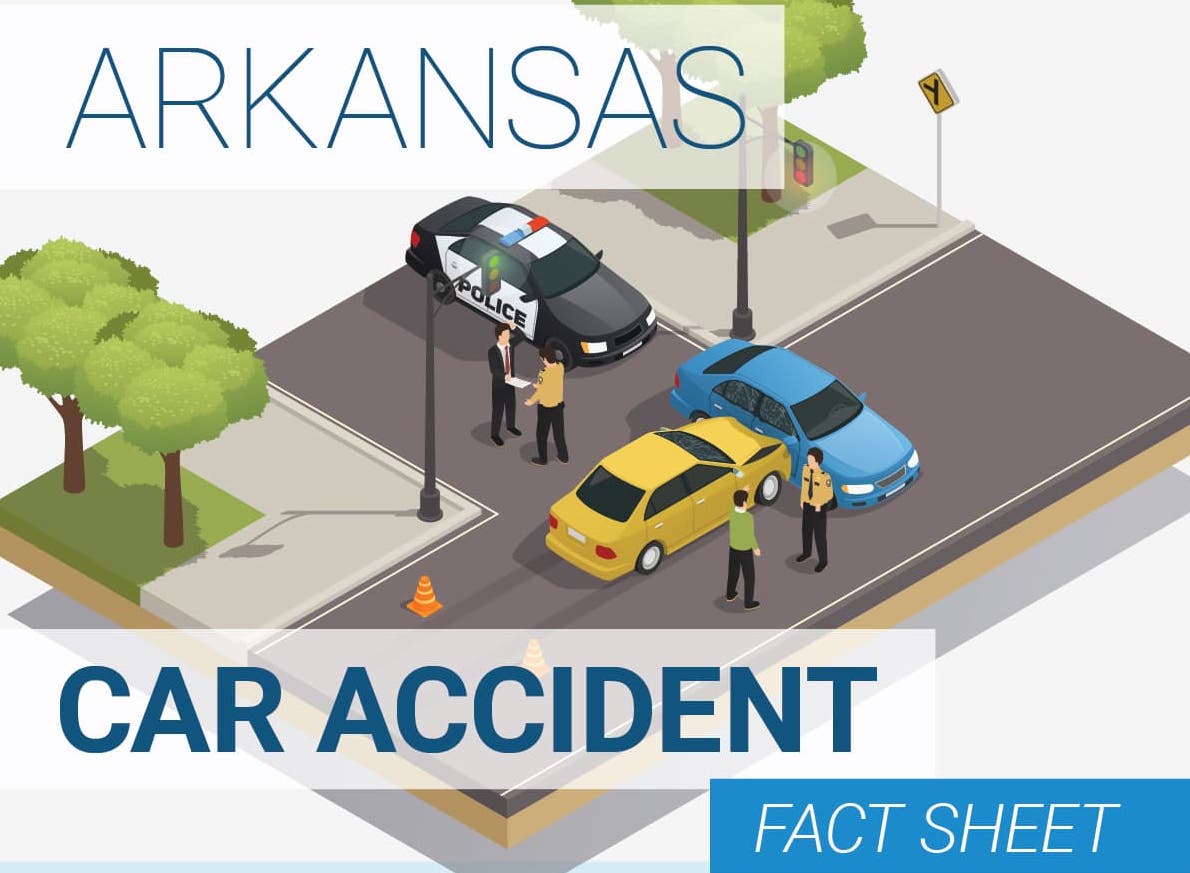 Common Injuries in a Springdale Car Accident
Common injuries in a Springdale car accident may include:
Amputations of limbs or toes/fingers
Ankle injuries
Blindness
Broken arm(s)
Broken leg(s)
Broken wrist(s)
Broken ankle(s)
Broken bones (ribs, pelvis, shoulder)
Burns
Concussions
Crush injuries
Damaged or broken tailbone
Dental injuries
Disfiguring facial injuries, scarring
Dislocated shoulder(s)
Fractured shoulder
Fractured hip(s)
Fractures general (ribs, knees, shoulders, hands, arms)
Foot injuries
Hand injuries
Internal organ damage
Internal bleeding
Internal injuries general
Knee and ankle injuries
Lacerations, bruises
Limb loss
Loss of hearing
Lung lacerations
Paralysis, quadriplegia, tetraplegia, paraplegia
Road rash
Shoulder, back, and neck injuries
Soft tissue damage
Stress injuries
Thoracic injuries
Torn ligaments/tendons
Traumatic brain injury
Visual impairment
Whiplash
Wrist injuries
Do You Need Help After A Road Construction Accident?
Tens of thousands of commuters drive to and from work on Interstate 49 in Northwest Arkansas between Fayetteville and Bentonville — including Rogers and Springdale — every day. With the recent renaming of Interstate 540 in Bella Vista to I-49, the state expects even more drivers to make use of the major highway as they travel through Arkansas.
If you drive on I-49, you know that the highway is constantly under construction. The year-round roadwork creates numerous hazards and dangers for truckers, tourists and commuters, often causing serious accidents in the road construction zones. If you are injured in a motor vehicle accident, whether due to negligence or road construction, an experienced personal injury attorney can help with your recovery.
Zealously Advocating For Accident Victims Throughout Northwest Arkansas
At the Law Office of Jason M. Hatfield, P.A., I apply more than 20 years of legal experience in helping personal injury victims. My wife is one of the commuters on I-49, and I have a vested interest in helping to improve the safety on our roads by representing people hurt in car or trucking accidents.
I will aggressively pursue your rights to medical benefits, lost income, and other compensation if you or a loved one has an injury claim caused by someone's negligence. Seek legal help whether your accident is due to a drunk driver, the company handling the road construction project or texting and driving.
Drunk Driving Accident Lawyer
Were you hit by a drunk driver in Arkansas? Is a family member struggling to recover from a car accident caused by someone on drugs? Did a motorist run into your motorcycle?
There are enough driving dangers in Northwest Arkansas without adding in the hazards caused by motorists under the influence of alcohol or drugs. If you or someone you love was injured in a drunk driving accident, you may be entitled to compensation for medical expenses, pain and suffering, lost wages and disability payments.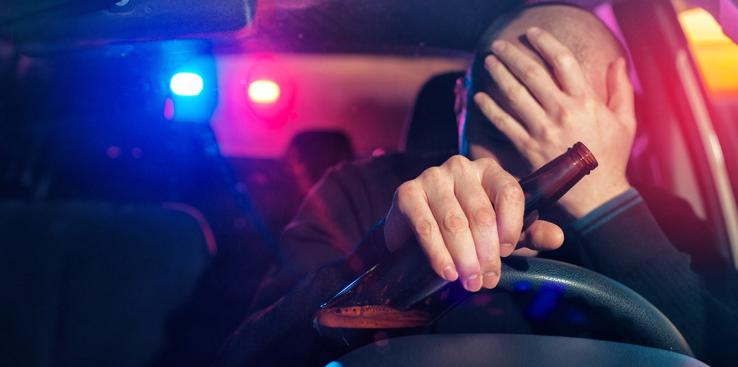 What You Should Do Following A Drunk Driving Accident
At the Springdale Law Office of Jason M. Hatfield, P.A., we understand how confusing an accident scene can be following a serious car crash, even if the police arrive right away. As soon as you can, do the following:
Seek medical treatment even if you suspect your injuries may not be serious.
Submit an accident report to your employer or supervisor if your accident occurred while you were working.
Report your accident to your insurance company.
Contact an experienced personal injury attorney to find out if you have a claim.
Do You Know How The Dram Shop Rule Can Help You?
In Arkansas, the dram shop rule allows you to seek recovery from a vendor — such as a liquor store, bar or restaurant — if it has served alcohol to a minor or allowed a patron to drink too much. As an experienced injury lawyer, let me help you obtain compensation for your losses so you can concentrate on your recovery.
We have dedicated ourselves to helping injured car crash victims in Northwest Arkansas for more than 20 years. We know how to fight insurance companies and get you the benefits you deserve from all of the parties responsible for your injuries.
Experience. Dedication. Compassion.
A serious car crash can be traumatizing and we understand the struggles you can face during your recovery. With more than 20 years of experience as car accident attorneys, we have dedicated our time helping hundreds of motor vehicle accident victims throughout Northwest Arkansas. Let a Springdale car accident lawyer handle the details of your claim so you can spend your energy on healing rather than fighting with insurance companies.
The Law Office of Jason M. Hatfield, P.A. represents injured Arkansans from all over Northwest Arkansas including Springdale, Fayetteville, Bentonville, Rogers, Fort Smith, Berryville, Harrison and Huntsville.
Call us today at (479) 361-3575 to schedule your free consultation. If you are unable to come to our Springdale office due to your injuries, we will come to you. Contact us today to get the best Springdale car accident lawyer fighting for you.
GET DIRECTIONS
Our Springdale Office is located on E Don Tyson Pkwy in Springdale AR. It is situated between S Old Missouri Rd and Ramsey Dr. Our office is located minutes away from Arvest Ballpark, Shiloh Museum of Ozark History, Tyson Foods, Apollo Theater, Arts Center of the Ozarks, Emma Street, Parsons Stadium, the University of Arkansas and I-40. We serve the Greater Springdale Area including Fayetteville, Bentonville, Rogers, Elkins, Elm Springs, Farmington, Goshen, Greenland, Johnson, Lincoln, Prairie Grove, Tontitown, West Fork, and Winslow.
Coming from Fayetteville, AR: From Garland Ave, turn right onto the US-62 E/US-71 N/I-49 N ramp. In 3.1 miles, keep right at the fork, follow the signs for Route 71B N/Fulbright Expy and merge onto Fulbright Expy. Use the left lane in 1.6 miles to take the US 71 B N exit toward Springdale. Merge onto US-71 BUS N and in 2.3 miles, turn right onto W Don Tyson Pkwy. In 1.3 miles the Law Office of Jason M. Hatfield will be on the right.
Coming from Bentonville, AR: Use E Central Ave to turn right onto SE Moberly Ln. In half a mile turn left onto SE 8th St then merge onto I-49 S. In 16.1 miles take exit 70 toward Don Tyson Pkwy then turn right onto Don Tyson Pkwy. In 3.8 miles, the Law Office of Jason M. Hatfield will be on the right.
Coming from Elm Springs, AR: Use AR-112 S/S Elm St to turn left onto US-412 E/E Henri De Tonti Blvd/W Sunset Ave. Continue on for 1.7 miles then turn right to merge onto I-49 S toward Fayetteville. In a mile and a half, take exit 70 toward Don Tyson Pkwy and turn right onto Don Tyson Pkwy. In 3.8 miles, the Law Office Of Jason M. Hatfield will be on the right.