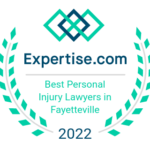 Fayetteville Personal Injury Attorneys
An accident can change the course of your life at a moment's notice. Everything you worked so hard for—your work, family and future—all takes a backseat to your physical recovery. During your recovery, you might not be able to work; you may miss important family events, all while wondering when, if ever, things will return to normal. You are not alone. And you are not without options. Through a Fayetteville, Arkansas personal injury lawsuit, you can pursue financial compensation that can ease many of the burdens you are experiencing.
At the Law Office of Jason M. Hatfield, P.C., our Fayetteville personal injury lawyers are here to help accident victims on their road to recovery. We have decades of experience representing accident victims and grieving families in personal injury and wrongful death cases throughout Northwest Arkansas. Over this time, we have learned how to effectively prepare, negotiate and litigate these complex cases, maximizing our clients' recovery while giving them a voice throughout the process.
Types of Fayetteville Accident Cases We Handle
As veteran Arkansas personal injury lawyers, we have helped clients recover from a wide range of accidents. While some accidents are more serious than others, even a seemingly minor accident can profoundly affect your life. We realize this and try to help as many clients as we possibly can. Some of the cases we handle regularly include:
Motor Vehicle Accidents
Most drivers take their responsibilities seriously; unfortunately, that is not always the case. Motor vehicle collisions are among the most common types of accident injuries, affecting more than 3,000 Arkansas residents each year. At the Law Office of Jason M. Hatfield, we represent clients injured in all kinds of motor vehicle accidents, including:
• Car accidents
• Pedestrian accidents
• Bicycle accidents
• Motorcycle accidents
• Truck accidents
Most Fayetteville motor vehicle accidents are the result of another driver's negligence. Common types of negligence in car accident cases include:
• Distracted driving
• Driving under the influence of drugs or alcohol
• Drowsy driving
• Traffic violations
• Aggressive driving
• Equipment malfunctions
Depending on the nature of an accident, there may be one or more parties liable to you for the injuries you suffered. In most cases, this is the other driver; however, in some situations, a vehicle or equipment manufacturer, property owner, or government entity's negligence caused the accident. At the Law Office of Jason M. Hatfield, our Fayetteville personal injury lawyers can help you identify all potentially liable parties and pursue a compelling claim for relief.
Slip and Falls
Falls are a leading cause of serious injury—and even death—across the United States. Falls are responsible for more than 21 percent of all emergency room visits, more than any other type of accident. In total, more than eight million people end up in the emergency room for fall-related injuries.
While some falls take place at home, many occur at work or while shopping. Businesses and other property owners owe a duty to their invited guests to provide a safe area. When property owners fail to take the necessary precautions, they can be held liable for any resulting injuries through a personal injury lawsuit.
Employers have a similar obligation to provide a safe workplace for their workers. If you were injured in a workplace fall, you may be entitled to workers' compensation benefits.
Workplace Accidents
Every day you get up and go to work, you assume that your employer has your safety in mind. And, in most cases, they do. However, accidents can—and do—happen. Whether an accident results from an employer's failure to provide a safe working area or provide necessary safety equipment, or another party's negligent actions, workplace accidents are a common source of injury.
For those injured in a Fayetteville workplace accident, there are two possible ways to obtain compensation. The first is through a workers' compensation claim. The workers' compensation program allows injured workers to receive limited benefits without the need to prove someone else was responsible for their injuries. For example, you may still obtain workers' comp benefits even if your own negligence was the cause of your injuries.
In certain situations, an injured worker can pursue a personal injury claim. However, typically these lawsuits are not brought against an employer, as a workers' compensation claim is an injured employee's sole remedy against their employer. Personal injury cases stemming from workplace accidents are filed against negligent third parties responsible for the accident. For example, if you are injured in a car accident while on the job, you could pursue a personal injury claim against the negligent driver. You could also pursue a workers' compensation claim. However, if you recover in both cases, you will very likely need to pay back some of the workers' compensation benefits out of the personal injury proceeds.
Dangerous and Defective Products
When you purchase a product, you reasonably assume that it is safe for its intended use. However, manufacturers frequently release products to market without conducting the necessary safety testing. Other times, a well-designed product suffers a manufacturing defect, making it extremely hazardous to customers.
A manufacturer is responsible for any injuries resulting from the manufacturer's failure to include the necessary warnings on the product or its packaging. Manufacturers can be held strictly liable for dangerous or defective products. This means that you do not need to prove that the manufacturer was negligent. However, strict liability does not apply in all Fayetteville product liability cases, requiring some accident victims to establish a manufacturer's negligence.
Wrongful Death
Too often, accident victims pay the ultimate price for another's negligence. In the tragic event of a fatal accident, grieving family members can pursue a Fayetteville wrongful death claim. A wrongful death claim is a type of personal injury case. Instead of being brought by the accident victim, a wrongful death case is brought by their surviving family members. Under Arkansas law, the following family members can bring a wrongful death claim:
• Spouses
• Children
• Parents
• Siblings
The personal representative of the accident victim's estate can file a wrongful death claim on behalf of the victim's surviving loved ones. Wrongful death cases can be brought after almost any type of fatal accident, including:
• Car accidents
• Truck accidents
• Boat accidents
• Slip and falls
• Workplace accidents
• Construction accidents
At the Law Office of Jason M. Hatfield, we have decades of experience handling all types of personal injury cases. We understand what goes into a successful case and how to negotiate with insurance companies on our clients' behalf effectively.
8 Stages of the Personal Injury Lawsuit Process in Arkansas
Sustaining an injury after a severe accident can be a very stressful experience. Most people considering a personal injury lawsuit have little to no experience with the process. Going through the personal injury process with an expert attorney can make the process less intimidating & more manageable.
The Arkansas personal injury lawyers at the Law Office of Jason M. Hatfield, P.A. have outlined the eight stages of how the personal injury process works in the state.
What Damages Can an Accident Victim Recover in a Personal Injury Lawsuit?
After suffering serious injuries in an accident, you may feel as though your world has suddenly turned upside down. You may have spent days or weeks in the hospital, missed work during this time, and still have no idea what your recovery will look like. When will you be able to go back to work? Will you still be able to do the things you used to enjoy? Are you going to deal with a lifetime of lingering pain? These are hard questions to answer, yet the uncertainty takes a toll on you.
By contacting one of the Fayetteville personal injury lawyers at the Law Office of Jason M. Hatfield, you can pursue a compensation claim. While every case is different, Arkansas law allows accident victims to recover for their economic and non-economic damages.
Economic damages focus on paying you back for the money that you spent or could not earn because of the accident. For example, economic damages include payment for the following:
• Medical bills
• Future medical expenses
• Lost wages
• Decrease in earning capacity
• Property damage
Proving economic damages typically entails your personal injury lawyer presenting the court with objective evidence of the amount of damages. For example, your medical bills can verify the cost of your medical treatment, and your employment records can help the court determine your appropriate amount of lost wages.
Non-economic damages, on the other hand, are more complex. Non-economic damages compensate you for the emotional and psychological effects the accident had on your life. The following are all types of non-economic damages:
• Pain and suffering
• Emotional distress
• Loss of enjoyment of life
• Loss of familial relationships
Unlike economic damages, non-economic damages require you to tell your story to the jury. How did the accident change your life? Do you now face ongoing physical limitations that prevent you from doing things you used to enjoy? An experienced Fayetteville personal injury lawyer at the Law Office of Jason M. Hatfield can help you identify the full extent of your economic and non-economic damages, so you can rest assured that you are not left on the hook for any of your accident-related expenses.
Arkansas Personal Injury Guide Infographic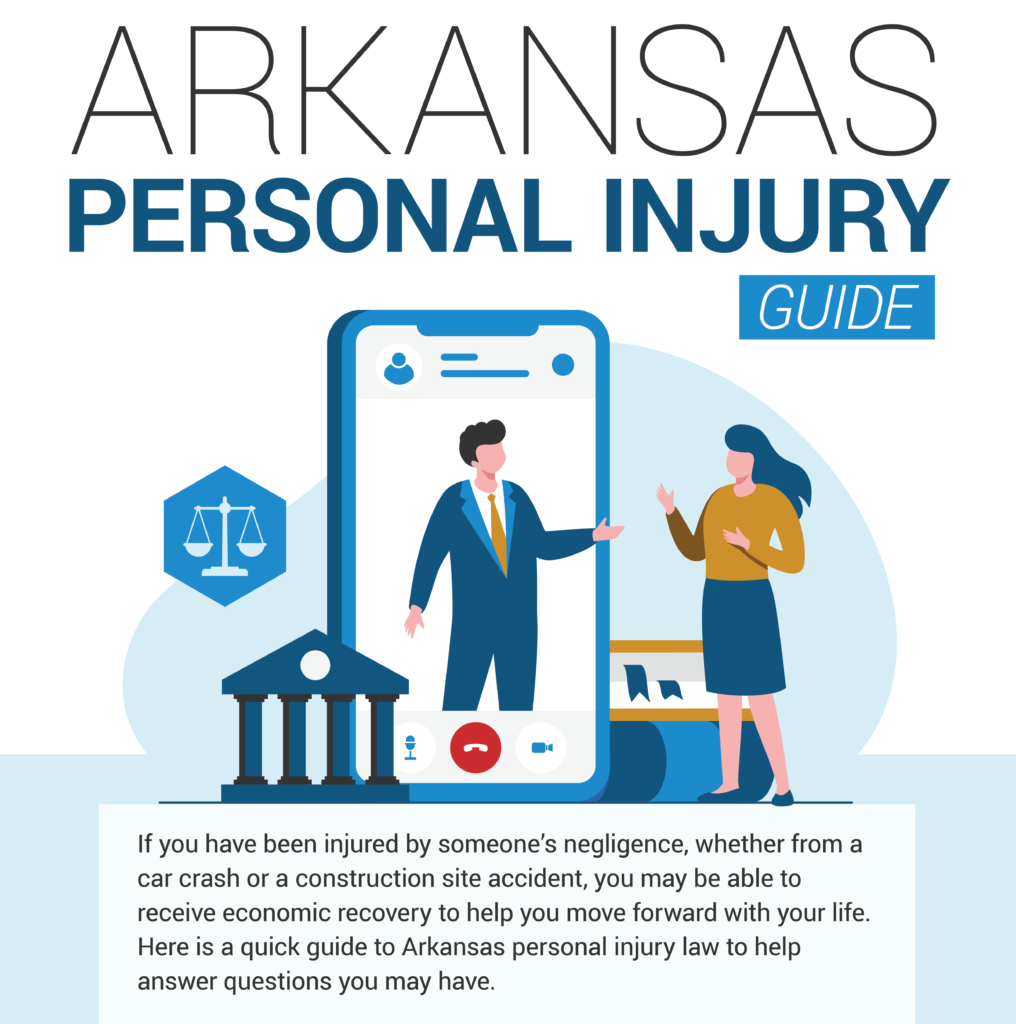 Frequently Asked Questions:
Am I still eligible to recover for my injuries if I was partially at fault for the accident?
Yes, even if you are partly at fault for the accident resulting in your injuries, you can still pursue a personal injury claim. Arkansas is a "modified comparative negligence" state, meaning that accident victims who bear less responsibility than the other parties involved can still bring a claim. If the jury determines you were partially at fault, the court will reduce your damages by your percentage of fault. For example, assume you were involved in a car accident and suffered $200,000 in damages. After a trial, the jury determined that you were 10 percent responsible for the accident and the other driver was 90 percent responsible. In this situation, your total recovery under Arkansas' modified comparative negligence framework would be $180,000.
How long do I have to file a personal injury claim?
In most cases, Arkansas accident victims must file a personal injury claim within three years of the date of the accident. While three years may sound like a long time to file a case, this time can pass quickly. If you fail to file your lawsuit on time, the court will have little choice but to dismiss your claim, leaving you with no way to recover compensation for your injuries. It is best to reach out to a personal injury attorney as soon as possible to begin the recovery process.
Contact a Fayetteville Personal Injury Lawyer for Immediate Assistance
If you or a loved one recently suffered serious injuries in an accident, reach out to the Law Office of Jason M. Hatfield to see how we can help. Our personal injury lawyers have extensive experience representing clients in all types of claims, including those defended by some of the most powerful insurance companies in the country. We understand how important your family's financial future is and will do everything we can to ensure that you recover everything you are entitled to. To learn more and schedule a free consultation with one of our Fayetteville injury lawyers, give us a call at 479-361-3575. You can also reach us through our online contact form, and one of our attorneys will be in touch soon.