Dangerous Roads in Arkansas, Fort Smith Area
Arkansas State Police statistics revealed that 567 fatalities occurred in 2020. The tragic incidents resulted from drunk driving crashes, head-on collisions, pedestrian deaths, trucking accidents, single-vehicle collisions, and train collisions.
The total of deaths for the year was 619. These totals are some of the state's highest in 10 years. The rise in accidents and deaths is concerning. Which highways are safe and which are not.
If you or someone you know has been involved in a serious car accident, contact our office today. We will sit with you, discuss your options, and develop a recovery plan. Contact us through our online form or call us at 479-361-3575.
Dangerous Roads Across Arkansas
Topping the list of the most dangerous road in the state is Highway 25 in North Central, Arkansas. In 2020, there was a fatal accident every 10.75 miles. Highway 25 runs from Conway to Black Rock.
Following closely behind the second most dangerous road was Highway 62, running through Bentonville to Mountain Home. A death happened every 14.9 miles. Highway 62 accounted for 22 deaths in 2020.
In 2020, Interstate 40 had 24 deaths, the highest number recorded in the state for an Interstate highway. In fact, of the 567 crashes in Arkansas in 2020, 85 of them happened on an Interstate highway.
Deadly Interstate Highways in Arkansas
Interstate 530 was the scene of 11 deaths in 2020, with an accident every 4.2 miles. While the number of fatalities decreased, the rate of crashes made it the most dangerous Interstate in Arkansas. This section of highway stretches from Pine Bluff to Little Rock.
Another Interstate establishing a record for deaths per mile in 2020 was I-30, with a death happening every 6.5 miles. I-555 witnessed a deadly collision every 10 miles, and I-40 recorded 24 crashes with a death every 11.8 miles.
The death by motor vehicle accident statistics is chilling and happen far more frequently than we would like. July 2020 was flagged as the most dangerous month on the road, with 65 deaths. June recorded 64 deaths. While the summer months can see an increase in traffic, the number of fatalities is frightening. Any month of the year can be deadly, and it is up to drivers to be alert and aware of their surroundings.
The Deadliest Highways in Arkansas
According to a report, Highway 12 revealed that a fatal accident occurs every 11.4 miles of its 57-mile stretch. Also, the Insurance Institute for Highway Safety (IIHA) recorded 472 fatal car accidents in Arkansas in 2018, resulting in 516 deaths. Other highways with high death counts include:
Highway 62 with 22 deaths.
Highway 71 recorded 17 fatalities.
Highway 412 had 16 people pass away.
Highway 67 had 15 deadly crashes.
Highway 63 had 13 fatalities.
Highway 70 had 11 deaths.
Highway 65 recorded 11 deaths.
Highway 64 had 10 deaths.
Highway 7 had 9 deaths.
Highway 1 had 8 fatalities.
Highway 25 had 8 deaths
Highway 270 had 8 deaths.
Highway 167 had 8 deaths.
Highway 79 had 8 deadly crashes.
As the numbers show, fatalities on highways can happen, and victims should seek legal guidance immediately. Call our office to help you build a recovery plan and seek justice for your accident.
Fort Smith Area and Nearby Accidents
In the last 15 years, the Fort Smith area has continued to experience serious traffic accidents. Close to 700 crashes have occurred between Arkansas 45, U.S. 71, and I-540. The region that racked up the highest number of injuries is mile mark 1.35 at the intersection of Planters Road.
For years, businesses on Planters Road and Arkansas 45 have asked for a stoplight at the intersection. Although companies included a request in the 2020 Statewide Transportation Improvement Plan (STIP) project to expand the road, ArDOT anticipated construction would commence in 2021 and cost an estimated $1 million.
It's not just passenger cars that travel on Arkansas highways. Arkansas 45 just south of Zero Street is traveled extensively by heavy trucks, including those heading to and from the Fort Smith landfill. Many collisions have happened between the 1.43 and 1.46-mile mark on Arkansas 45 in Fort Smith.
The Most Dangerous Roads in the Fort Smith, Arkansas Area Infographic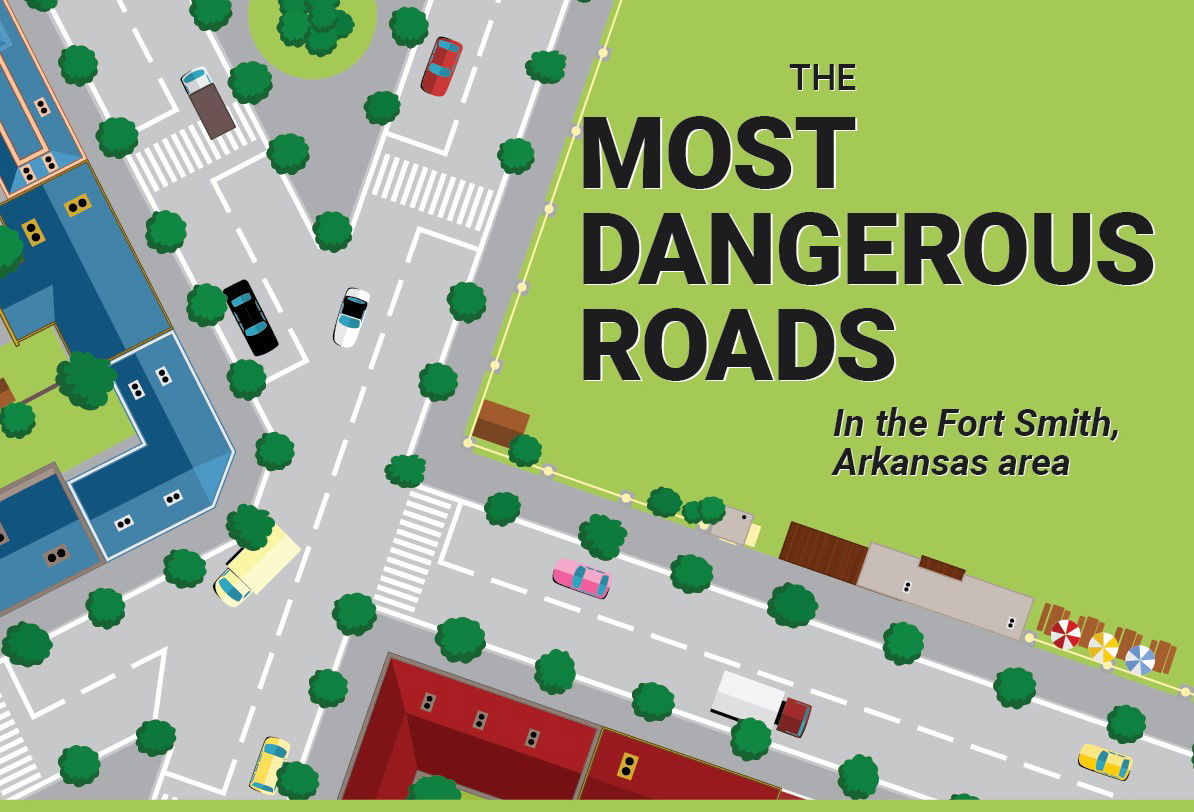 How To Know What Type of Car Accident You Experienced
Some of the most common vehicle accidents on streets or highways in Fort Smith are
head-on, side-impact, multiple-vehicle, single-vehicle, T-boned, and rear-ended accidents.
Although no one can anticipate a severe accident, it can occur at any time of the day. Reasons for fatal Arkansas accidents are due to speeding, road rage, wrong-way driving, distracted driving, poor weather, reckless driving, and disobeying speed signs and lights.
If you were involved in a fatal accident in Fort Smith, give us a call today. We are here to help sort out your evidence, build a strong case for discovery, and ensure you receive immediate medical care for your injuries.
Car & Pedestrian Accidents in Arkansas
In Arkansas, an estimated 25 pedestrians pass away each year. From drunk driving crashes to hits and runs, pedestrians face numerous dangers while walking and crossing a roadway.
After a pedestrian accident, drivers may claim the pedestrian darted out in front of them. However, the driver could have been distracted or on drugs. Being hit by a vehicle results in severe and debilitating injuries. It is vital to speak with an experienced car accident attorney at the Law Office of Jason M. Hatfield.
In a car-pedestrian accident, a person must prove who is at fault for the accident and resulting injuries. There may be more than one party responsible, including:
A vehicle driver.
Other vehicles involved in the accident.
A driver's employer.
The county/city, who is responsible for taking care of traffic signals and the roads.
If you have been in a car accident or are a pedestrian hit by a vehicle, seek legal representation to protect your rights. Never postpone seeing a doctor, as a physician provides a paper trail of all injuries involved in your crash. This information is crucial evidence and can help lay the foundation for a successful personal injury settlement or trial award.
Contact The Fort Smith Law Office of Jason M. Hatfield Today
If you were involved in a Fort Smith car or pedestrian accident, reach out to the Law Office of Jason M. Hatfield by calling 479-361-3575. Our dedicated team of car accident lawyers is here to help.
Call us today for a free initial consultation and determine what you can expect should you file a personal injury lawsuit.
We know you have questions, and we can answer them for you. The Law Office of Jason M. Hatfield is just one quick call away 479-361-3575.