What Type of Disability Can I Claim?
A workers' compensation claim is a relatively quick way for injured workers to obtain certain types of benefits after suffering a workplace accident or occupational illness. However, successfully preparing a workers' compensation claim is not always straightforward, as these claims are usually handled by your employer's workers' compensation insurance carrier. Too often, insurance companies nickel-and-dime injured workers, standing in the way between them and the benefits they need and deserve. At the Law Office of Jason M. Hatfield, P.A., our dedicated team of Arkansas workers' compensation lawyers have decades of experience effectively preparing, negotiating and settling workers' compensation claims on behalf of injured workers.
Arkansas Workplace Accidents
Occupational injuries are common in Arkansas. According to the most recently available data, the state has one of the highest rates of worker injury and death. For example, in 2019, more than 24,000 employees suffered some workplace accident. Of those, more than 10,500 resulted in an employee missing at least one day of work or requiring transfer to another position.  
The majority of Arkansas workplace injuries occurred in the private sector. The most dangerous industries, according to the Bureau of Labor Statistics, are:
Manufacturing
Trade, transportation and utilities
Nursing and residential care facilities
Leisure, entertainment and hospitality
Food manufacturing
Animal slaughtering and processing
Construction
Regardless of the industry, you work in, an on-the-job accident will disrupt your life in many ways. A workers' compensation claim enables you to recover meaningful compensation for your accident-related expenses as well as the income you could not earn while you were recovering compensation for your injuries.
Workers' Compensation Benefits – What Type of Disability Can I Claim Infographic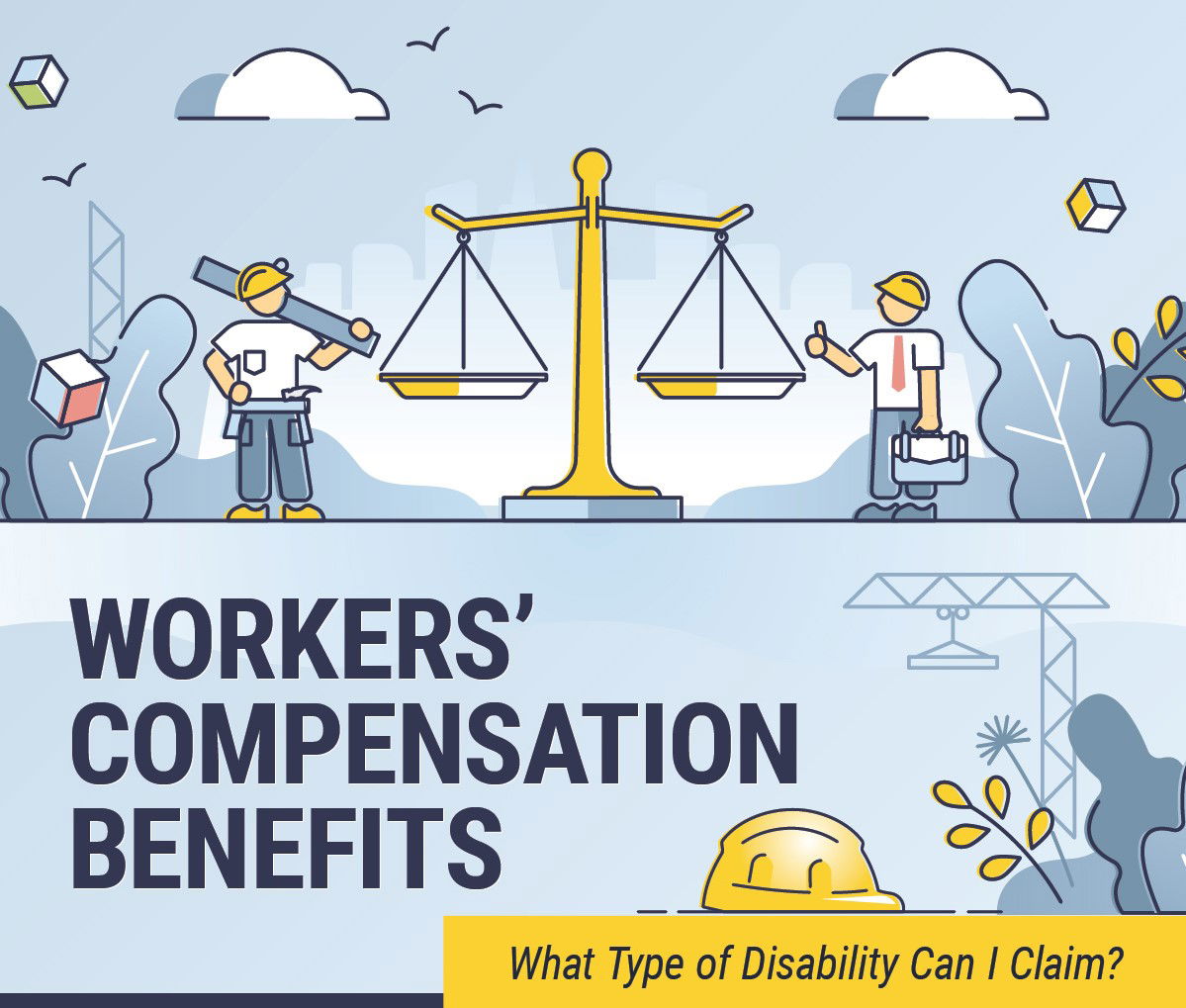 Types of Arkansas Workers' Compensation Benefits
When you are hurt on the job, you may be eligible for workers' compensation benefits. However, determining which benefits you are entitled to can be confusing. There are two types of workers' compensation benefits: medical coverage benefits and income-replacement benefits.
Medical Coverage Benefits
After a workplace accident, you may incur significant medical expenses. If your employer is covered under the workers' compensation system, they will be responsible for paying for all accident-related medical care. This includes standard costs, such as emergency room treatment, follow-up doctors' appointments, and any physical or occupational therapy that is deemed necessary. In addition, you may also obtain the following benefits:
Prescription drug coverage
Reimbursement for travel to healthcare appointments
Prosthetic devices
Surgeries
If any medical cost relates to the accident, it should fall on your employer, not you.
Income Replacement Benefits
In addition to medical coverage, workers' compensation claims also allow injured workers to receive benefits that make up for the income they could not earn while disabled or otherwise unable to work. There are four types of income replacement benefits under the Arkansas workers' compensation system:
Temporary Partial Disability Benefits
Temporary Partial Disability (TPD) benefits are a type of workers' compensation benefit paid to injured workers who the work comp doctor has released to return to work part-time, with certain restrictions. These benefits are among the least common workers' compensation benefits.
TPD benefits are payable at a rate of two-thirds of the difference between the average amount of money you made per week over the last 52 weeks and the amount of money you are making currently. Due to the nature of how these benefits are calculated, they would never exceed the maximum weekly benefit amount for Temporary Total Disability benefits, which is currently set at $835 per week.
Temporary Total Disability Benefits
Temporary Total Disability (TTD) benefits are workers' compensation benefits that provide injured workers ongoing benefits while unable to work due to a work injury. In most cases, TTD benefits are paid to workers who suffer serious injuries such that they cannot work but are expected to make a full recovery to the point where they will eventually be able to return to work. You can also obtain TTD benefits if your doctor placed you on light duty and your employer refused to make light-duty work available.
TTD benefits equal two-thirds of your Average Weekly Wage (AWW) over the most recent 52-week period. While your AWW may be easy to determine in some situations, it can become more complex if you consider overtime, shift differentials, commissions and mileage payments for those paid per mile, such as truck drivers. The maximum TTD benefit per week for 2021 is $835. This will increase each year. 
TTD benefits begin after you have missed seven days of work due to your injuries and are available as long as you are recovering from your work injury. However, the employer has the option of providing you with light-duty work instead of paying TTD benefits.
Permanent Partial Disability Benefits
Permanent partial disability (PPD) benefits are available for injured workers who suffer a permanent disability but can still work in some capacity. You do not have to be totally disabled to receive Permanent Partial Disability; however, you must have a permanent partial impairment identifiable by objective medical evidence. PPD benefits kick in at the end of your healing period, meaning these benefits are often paid once you are no longer eligible for TTD benefits.
The amount of PPD benefits you are entitled to depend on a variety of factors, including:
Your average wage over the preceding 52-week period; and
Your level of impairment.
Typically, once you reach the point where no additional medical care will further improve your condition, a doctor will assign you an impairment rating. If your impairment rating is zero, you are not entitled to PPD benefits. However, if you are permanently impaired, you will receive benefits depending on the level of impairment.
The maximum amount of PPD benefits you can receive per week in 2023 is $626. However, this weekly benefit amount will increase in 2024.
Permanent Total Disability Benefits
Permanent Total Disability (PTD) benefits are paid to injured workers who cannot earn any meaningful wage due to injuries sustained in a workplace accident. While it is challenging to prove eligibility for PTD benefits, if you are able to do so, you will receive workers' compensation benefits until at least the age of retirement.
PTD benefits are only paid after you reach the point where you will no longer benefit from additional medical treatment. For example, you may have received TTD benefits for some time and then were declared totally disabled. PTD benefits are paid at the same rate as TTD benefits, which is $790 per week in 2022 and $835 in 2023.
Do You Need a Workers' Compensation Lawyer After Suffering a Serious Workplace Accident?
experienced Arkansas workers' compensation lawyer will have handled hundreds—if not thousands—of cases and can ensure that your claim is handled effectively from the very beginning.
To be sure, some workers' compensation claims are much more complex than others. For example, suppose you are applying for workers' compensation and Social Security benefits. In that case, the Social Security Administration will typically take a dollar-for-dollar credit for all benefits you receive through the workers' compensation system. An attorney can help situate your claim to ensure you receive the maximum value of all the benefits you are entitled to.
Second, and perhaps more importantly, a workers' compensation lawyer can advocate on your behalf with the insurance company, ensuring that you recover the benefits you deserve. Your employer's workers' compensation insurance company may deny your claim or question the seriousness of your long-term injuries. In some cases, workers' compensation doctors deem an employee eligible to return to work when their own doctor does not believe that is in the workers' best interest. In these cases, having a knowledgeable Arkansas workers' compensation lawyer will ensure that you are treated fairly throughout the process and recover the full amount of benefits you are eligible for.
At the Law Office of Jason M. Hatfield, P.A., our workers' compensation lawyers have extensive experience handling all types of workplace injury claims. From the moment you bring us on board, we will get to work preparing your claim. A few of the things we will take care of include:
Collecting your wage records to ensure the insurance company correctly calculated your average weekly wage;
Contacting the insurance adjuster or your employer's attorney if your benefit amount was incorrectly calculated;
Ensuring that your impairment rating, if applicable, comports with the American Medical Association Guides to Permanent Impairment;
Leading negotiations with the insurance adjuster or your employer's attorney to secure a favorable lump sum settlement, if that is your desire;
Litigating issues that cannot be resolved or negotiated before both the Arkansas Workers' Compensation Commission and the Social Security Administration.
We also make ourselves available anytime you need us to answer your questions, keep you updated about the status of your case, and address any concerns that come up along the way.
Contact an Experienced Arkansas Workers' Compensation Attorney for Immediate Assistance
If you were recently injured on the job or developed a serious medical condition related to your work, contact the dedicated Arkansas workers' compensation lawyers at the Law Office of Jason M. Hatfield, P.A. Our attorneys have a deep understanding of the state's workers' compensation laws and how they relate to Social Security and personal injury law. We use this to increase your claim's chances of success and maximize the benefits you recover. The Law Office of Jason M. Hatfield, P.A., represents injured workers across Northwest Arkansas, including but not limited to Springdale, Fayetteville, Fort Smith, Rogers, Bentonville, Berryville and Harrison. We also represent injured truck drivers from all over the United States with employers, such as; J.B. Hunt Transport, Tyson Foods Inc., Walmart Inc., PAM Transport Inc., USA Truck Inc., Maverick Trucking and others in Arkansas. To learn more and schedule a free consultation with an Arkansas workers' comp attorney today, call 479-361-3575. You can also reach us through our online contact form.