Bentonville Car Accident Lawyer
At some point in your life, you'll probably get into a car accident. Very few of us make it through life unscathed. The problem is, when we learn how to drive, nobody teaches us what to do if we get into a car crash. That's why you need to rely on the experience of Bentonville car accident lawyer Jason M. Hatfield P.A.
The experienced attorneys at Law Office of Jason M. Hatfield P.A. in Bentonville know exactly what to do following a car accident. They know how important it is to take these steps. If you don't, you risk losing your chances of recovery against the other driver.
The three basic things you need to do after a crash in Arkansas is:
Call 911 – You need to make sure an officer comes to investigate the scene. They'll provide you with a police report. Your lawyer will need the information in this report to prove your claim.
Arrange for medical treatment for your injuries – Even if you think you're okay, you need to get checked out by a doctor. The cops can arrange to have an ambulance come and take you to the hospital.
Call an experienced auto accident lawyer – You need to focus on recovering from your injuries. Let a skilled accident lawyer handle the legal side of things.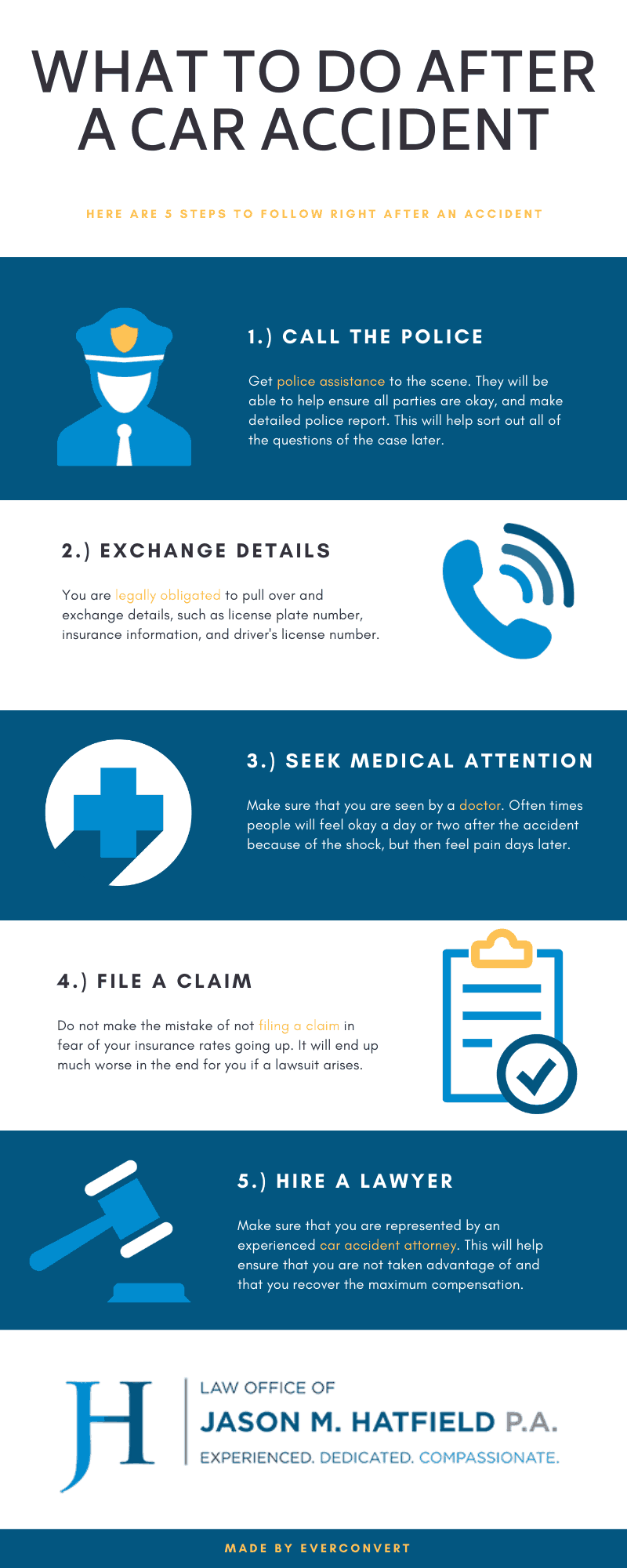 How Much Does It Cost to Hire a Bentonville Car Accident Lawyer?
You can meet with one of our experienced car accident lawyers for free. You can sit down with someone who will review your case and evaluate how much it may be worth. Your lawyer will ask you questions about your case and look at the information you have.
If you choose to retain one of our lawyers, we'll represent you on a contingency basis. This means that you don't pay anything unless and until we win your case. If we don't get you any compensation, you pay nothing.
Keep in mind, as our client, you will be responsible for some fees and expenses, regardless of the outcome. We may ask you to provide payment for these expenses while we work on your case.
Why Should I Hire a Car Accident Attorney?
If you're injured in a car accident, you should speak with an attorney immediately. Your lawyer will be able to deal with the insurance company on your behalf. They'll work hard to get your claim paid.
Your attorney is going to demand that you be compensated for your losses. This includes any current medical bills and medical treatment you may need in the future. If your insurance claim is denied, your lawyer will file a personal injury lawsuit on your behalf.
Your attorney will deal with the insurance adjuster. They'll also deal with the defendant's lawyer should a lawsuit be filed. They'll gather the evidence necessary to prove your case. You can focus on recovering from your injuries while your Bentonville car accident lawyer handles the legal side of things.
What Should I Do After a Car Accident?
If you're involved in a car accident, there are certain things you need to. You'll have to make sure you receive the medical treatment you need. You also need to file an insurance claim. Ideally, the insurance company will pay your claim and you'll get your money in a week or so. However, it's not always this simple.
You're going to need certain information in order to file your insurance claim. This is why you need to call the police immediately after your accident. They're going to provide you with a police report. This report will have a lot of very valuable information regarding your Bentonville car accident.
While you're waiting for the police to arrive, gather as much information as you can. Take pictures of the scene and the vehicles. Talk to witnesses and see if they saw anything. Take notes of the other car information and license plates for all the vehicles involved.
When you file your claim with the insurance company, they're going to ask for all of this information. They'll have a claim adjuster review your claim and determine if it should be paid. The adjuster will also look at the policy limits and see if it covers your injuries.
The adjuster will make sure your medical bills and car repairs are paid for. Then they're going to assign fault for the accident. This means one of three things will happen:
They determine the other driver is totally at fault
They determine you were totally at fault
They believe both drivers were partially at fault
Once they've made their decision on fault, they'll let you know how much money you're entitled to. If you don't believe they've fairly assigned liability, your Bentonville accident attorney can appeal the claim.
Having an attorney represent you during the claim process can help. The insurance company will take you more seriously. They'll also be less likely to take advantage of you. Your attorney has years of experience handling these types of cases. They'll try to negotiate a settlement that fully compensates you for the accident.
A Guide to the Car Accident Process
Car Accident Statistics in Arkansas
With so many cars on the road today, there are bound to be more accidents. People drive to work, school and to run errands. Unfortunately, all it takes is one person's mistake to cause a very serious car accident in Bentonville.
According to the Arkansas State Police, there were over 60,000 accidents in 2014. This was an increase of over 4% from 2013. This means that the number of crashes is on the rise. The good news is that, while the number of total accidents has gone up, the number of traffic fatalities has gone down.
In 2013, there were 461 fatal car accidents in Arkansas. This number dropped to 435 in 2014. While this isn't a drastic decrease, it's still a significant drop. In fact, in the last ten (10) years, 2014 had the fewest number of fatal car crashes in Arkansas.
When it comes to dangerous car accidents, certain age groups are more at risk than others. For example. People from 21 to 25 experience the most car crashes. This was true from 2010 through 2014.
Certain types of infractions caused more accidents than others. The statistics for types of accidents in Arkansas include:
20,171 total crashes due to careless and prohibited driving
9,534 were due to failure to yield
7,738 were caused by tailgating
About 50,000 crashes were due to either undetermined or unconfirmed causes.
Despite the fact that it appears the number of crashes is on the decline, that doesn't mean the risk has gone down. You still need to be very careful while on the road. If you or a loved one have been injured in a car accident in Bentonville, you need to contact an experienced car accident lawyer.
Arkansas Car Accident Fact Sheet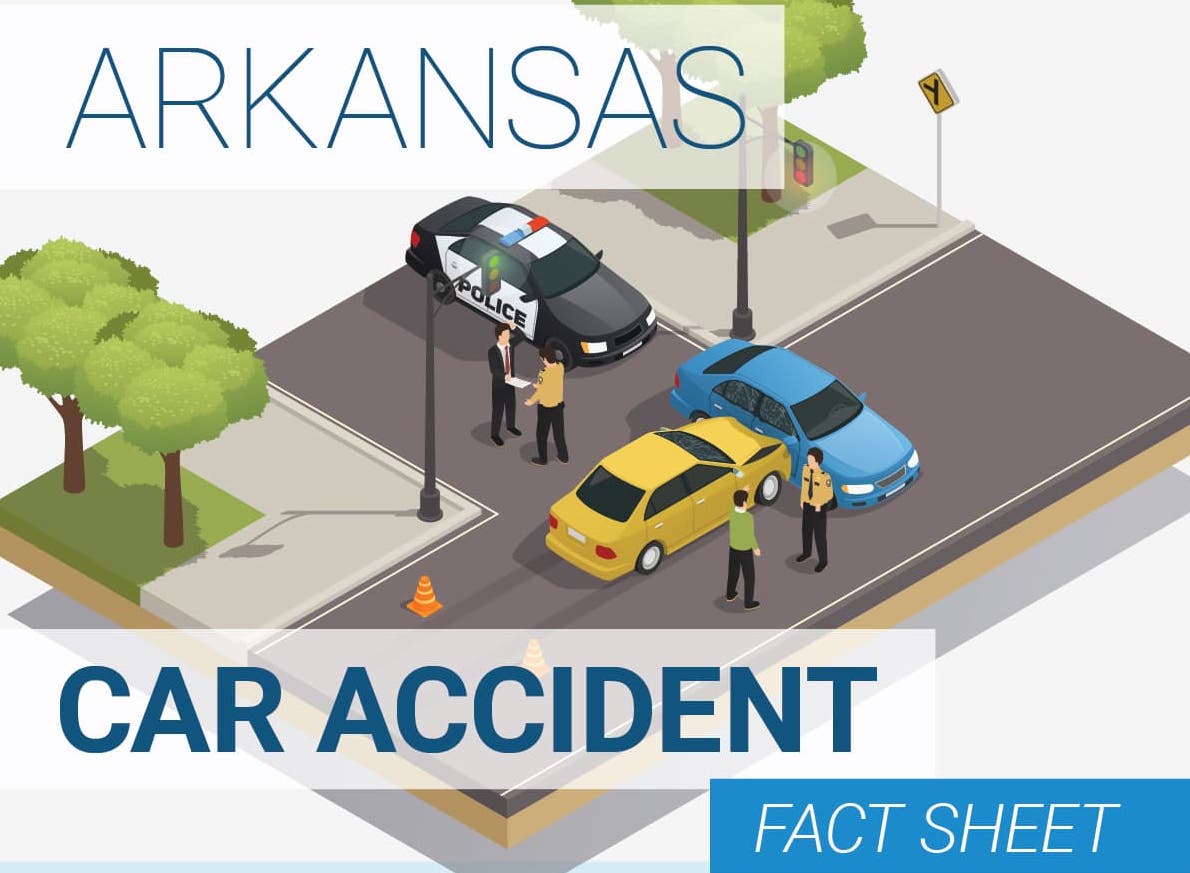 What Can I Get for Damages from My Car Accident?
Your Bentonville car accident lawyer is going to fight to get you the compensation you deserve. If you suffer serious injuries, you'll be entitled to certain damages. Ideally, these damages will be covered in your insurance settlement. However, your lawyer may need to file suit if they're unable to negotiate a fair settlement.
Some of the damages your attorney will demand may include the following:
Current and future medical expenses
Loss of income
Rehabilitation expenses
Diminished earning capacity
Pain and suffering
Your attorney will continue to try to settle your claim, even if you file suit. Most car accident cases settle long before trial. Nobody wants to go to trial. They're expensive and time consuming. It's in everyone's best interest to negotiate a settlement out of court.
Car Insurance Laws in Arkansas
All drivers in Arkansas are required to carry auto insurance. There are certain minimum levels of coverage you must maintain. The mandatory minimum insurance rules in Arkansas include:
$25,000 for the death or injury of a single individual
$50,000 for the death or injury of multiple individuals in a single collision
$25,000 to cover property damage
If the other driver is at fault and doesn't have the required insurance, you'll have an issue. Your attorney will have to help you file a claim under your uninsured motorist's policy.
What is the Average Settlement Amount in Arkansas?
Every car accident case is different. It's impossible to predict how much a case may be worth. This is why your Arkansas car accident lawyer will review your case and look at the evidence. They can give you an idea of what your case may be worth. However, it all depends on who is at fault and how serious your injuries are.
Types of Cases Our Bentonville Injury Attorneys Handle
Some of the injury cases we handle include:
No matter what type of injury you suffer in Bentonville, our team of experienced personal injury lawyers can help. They'll work hard to make sure you get the compensation you deserve. You need to focus on recovering from your injuries. Let our lawyer handle the legal side of things.
Contact our Bentonville Auto Accident Attorneys for a Free Consultation
If you've been injured in a car accident, you're going to need to focus on recovering from your injuries. The last thing you need to do is deal with lawyers and insurance companies. You also don't want the insurance company taking advantage of you.
Call and schedule your free initial consultation with an experienced personal injury lawyer in Bentonville, Arkansas. Let them handle the legal side of things while you focus on getting well. The consultation is free and you pay nothing until you settle your case.