Fort Smith Motorcycle Accident Attorney
Millions of people love to ride motorcycles, either as a primary mode of transportation or a hobby. Although most motorcycle enthusiasts take safety seriously and observe all traffic laws as they ride, accidents still happen. Motorcycles offer riders little protection, and catastrophic injuries are the tragic yet all too common result of a crash.
Data from the National Highway Traffic Safety Administration (NHTSA) found that motorcyclists were about 29 times more likely than passenger vehicle occupants to die in a motor vehicle crash and were four times more likely to be injured.
If you or a loved one have been injured or killed in a motorcycle accident, you need an attorney who understands the intricacies of this type of accident. At the Law Office of Jason M. Hatfield, P.A. are committed to boldly representing motorcycle accident victims in Northwest Arkansas, fighting for fair compensation for the damages they have sustained.
Causes of Motorcycle Accidents
One of the most common causes of motorcycle accidents is the failure of a driver to see a motorcyclist. The slogan "Look twice, save a life" is part of a national campaign to increase motorists' awareness of bikes on the road and reduce the number of motorcycle accidents every year.
Riding a motorcycle requires specialized training and a keen awareness of surroundings at all times. However, this is not always enough to protect motorcyclists from other drivers and environmental threats. Some of the most common causes of motorcycle accidents include:
Unsafe lane changes and turns
Visibility issues
Driver inattention
Weather conditions
Road conditions, such as grass clippings in the street
Speeding
Driving under the influence
Drowsy driving
Common Motorcycle Accident Injuries
Motorcycle accidents are dangerous because a bike offers its rider no protection in an accident causing serious and fatal injuries.
Some of the most common injuries sustained in motorcycle accidents include:
Head Injuries. Head injuries and traumatic brain injuries (TBIs) are the most common injuries for motorcycle riders. Head injuries might cause seizures, loss of consciousness, coma, pain, sensory issues, loss of ability, psychological damage and more. Helmets can protect a rider when appropriately worn.
Broken Bones. The impact of an accident can easily cause fractures that require casting, surgery and long recovery times.
Back Injuries. Back and neck injuries such as broken vertebrae or muscle sprains are painful and may affect mobility. Damage to the spinal cord can be more serious, potentially causing permanent paralysis, disability or death.
Road Rash. Bikers who slide across the road in an accident suffer friction burns to the skin. Road rash is excruciating and has a high risk of infection and scarring. Protective leather clothing items can help guard the skin from road rash.
Internal Injuries. Being thrown off a motorcycle often results in blunt force trauma and penetration injuries that cause damage to internal organs and severe bleeding. These injuries can be significant and extremely dangerous.
Types of Motorcycles
Different types of motorcycles have their own unique features. Some are statistically more likely to be involved in a crash.
The ten road-legal classes of motorcycles are:
Cruisers
Standards
Choppers
Supersports
Sport motorcycles
Unclad sport motorcycles
Sport-touring motorcycles
Touring motorcycles
Dual-purpose motorcycles
Scooters
More than 72,400 motorcycles were registered in Arkansas in 2021. Cruisers and touring bikes are the largest registered motorcycles category, as their classic design and comfortable features appeal to many riders. These also boast some of the lowest crash rates, along with standard and sport-touring motorcycles.
Registrations for sport and supersports bikes are far less than other motorcycles, but they are involved in a high number of accidents. These motorcycles are road versions of racing motorcycles built for speed and acceleration. Data from the Insurance Institute for Highway Safety shows that the driver death rate per 10,000 registered motorcycles for supersports was about four times higher than those who rode cruisers or standards.
Arkansas Motorcycle Accident Fact Sheet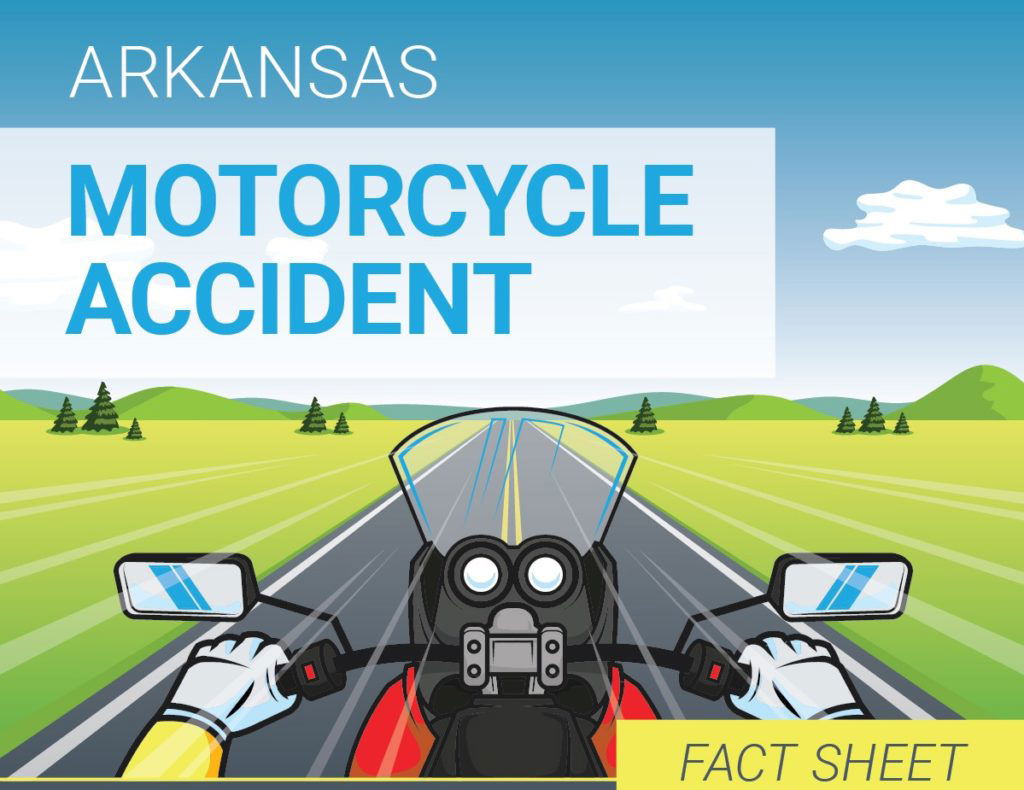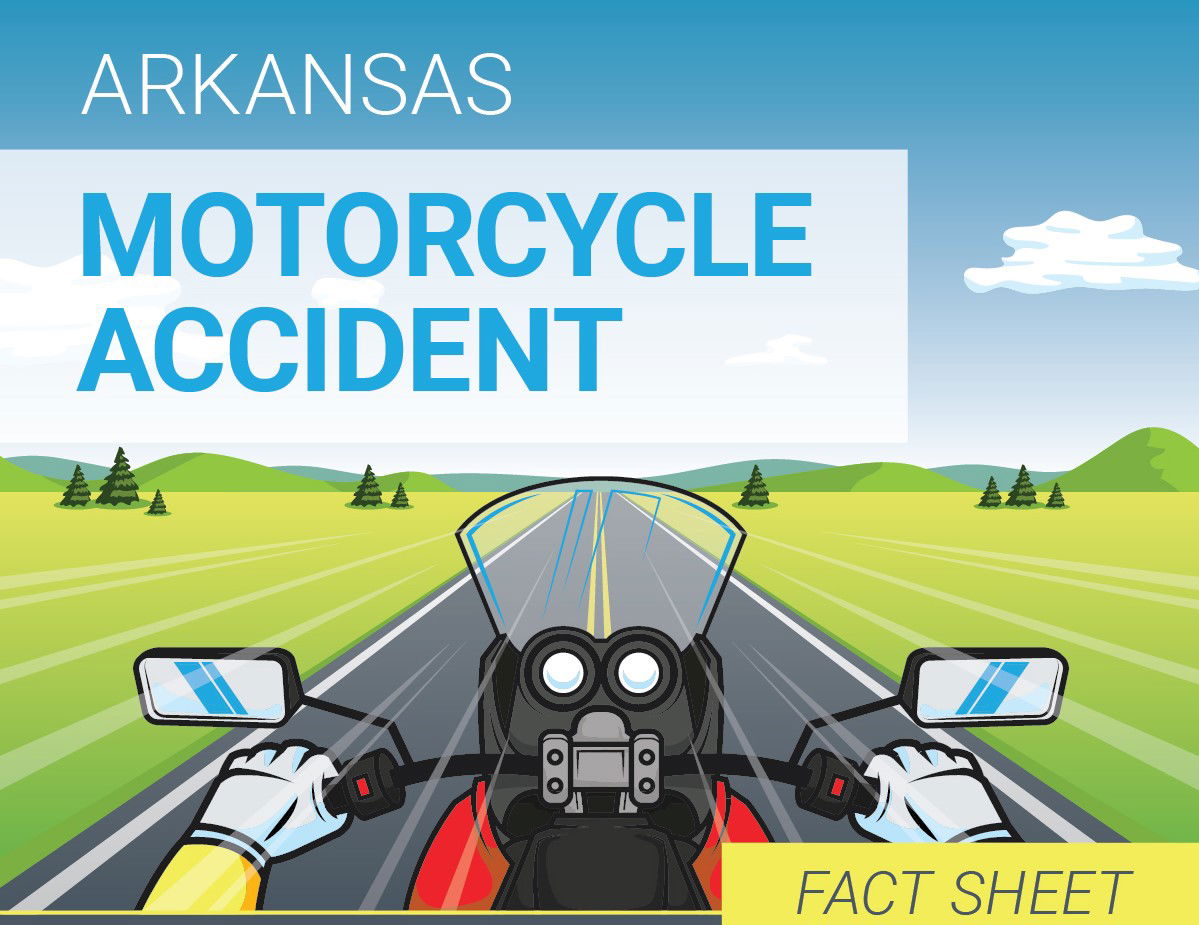 Damages for Motorcycle Accident Victims
When negligence caused a motorcycle accident, those harmed by it could be entitled to receive compensation for their damages.
Compensation for a motorcycle accident claim can cover:
Medical expenses
Projected future medical or care expenses
Lost income
Lost earning potential
Emotional distress
Disfigurement
Pain and suffering
Loss of quality of life
Loss of consortium (the loss of intimacy and companionship between spouses or partners)
Wrongful death
Property damage
Damages can be both economic and non-economic. Economic damages have a clear worth, such as a hospital bill or lost wages for time out of work. Non-economic damages are not attached to a dollar value. The cost of things like emotional distress or pain and suffering is not so obvious.
An experienced motorcycle accident attorney can determine how much a claim is worth so that you get compensated fairly. Not knowing the value of a case makes accepting less than you deserve more likely.
What To Do After a Motorcycle Accident
In the aftermath of an accident, it may be overwhelming to know what to do next. However, there are steps you can take to increase the chances of resolving a claim favorably. First, be sure that everyone is safe from immediate danger and that injuries have been addressed.
Saving anything that could support a claim of negligence against another driver or party is critically important. Take pictures of the accident scene, damages and injuries, save any bills for medical care related to the accident and keep everything together so it is easy to find.
Be sure to get evaluated by a doctor or other health professional after the accident, even if you feel your injuries are not that bad. They can diagnose any problems. Doing so can save you from exacerbating an injury or missing the opportunity to show that an injury is connected to the accident. Follow any prescribed treatment plans.
Finally, contact a motorcycle accident attorney without delay. A lawyer needs as much time as possible to investigate the accident and build a strong case in your favor. In addition, Arkansas statute of limitation laws allows three years from the date of a motorcycle crash to file a claim for damages. After this period has lapsed, you will no longer be able to pursue damages.
How a Motorcycle Accident Attorney Can Help
Insurance companies train their adjusters and other employees to pay accident victims as little money as possible. Like any other business, an insurance company's goal is to make money, and they will do so by whatever means necessary.
Having an attorney of your own means there is a professional on your side. A lawyer fights to get you as much money as possible for your injuries and losses. They understand how insurance companies operate and can successfully negotiate with them on your behalf. When there is no insurance settlement, and a case goes to trial, a motorcycle accident lawyer will navigate the entire process.
Many accident victims find that hiring an attorney to represent them in their motorcycle accident case gets them more money, less stress and a better experience overall. The attorneys of the Law Office of Jason M. Hatfield, P.A. work on a contingency fee basis, meaning there are no fees until your case is settled for you. If you are awarded no money, you pay nothing.
Contact the Law Office of Jason M. Hatfield, P.A.
If you or a loved one have been hurt or killed in a motorcycle accident, you could be entitled to compensation for damages. An experienced personal injury attorney like those at the Law Office of Jason M. Hatfield, P.A. can help you get it.
The Law Office of Jason M. Hatfield, P.A., is proud to serve Northwest Arkansas, including Fort Smith, Fayetteville, Bentonville, Springdale and Rogers. For a free case review, call (479) 361-3575.