Rogers Motorcycle Accident Lawyer
One of the great things about driving a motorcycle is that you can maneuver roads and highways without being stuck in a cumbersome vehicle. You save money on gas and can fit into tight spaces. And, once you're on the road, you can enjoy the wind on your face and the big, open sky. The problem is, people who ride motorcycles are at greater risk of suffering serious injuries if they get into a crash. A motorcycle rider doesn't stand a chance against a large car or SUV. The only thing that protects you is your helmet. That's why it's a good idea to call a skilled Rogers motorcycle accident lawyer if you get into any sort of motorcycle crash.
Motorcycle riders tend to suffer more serious injuries than other accident victims. You may be ejected from your bike and thrown across the highway. This can cause unique injuries that you don't have to worry about if you drive a car or truck.
So, if you do get into a motorcycle wreck, you're going to need an experienced motorcycle accident lawyer in Rogers, Arkansas. They can help you get the compensation you deserve. Let them deal with the insurance company while you focus on getting better.
Why Do I Need to Hire a Motorcycle Accident Attorney?
Motorcycle accidents happen more often than you may think. And, they're just as common in Arkansas as anywhere else in the country. Anywhere that has an open road is going to experience their share of motorcycle crashes.
Every year, there are almost 90,000 motorcycle accidents in the U.S. Almost all of these cause pretty serious injuries. Unfortunately, close to 5,000 die every year in this country due to motorcycle accidents.
The fatality rate for motorcycle crashes is a lot higher than it is for car accidents. This is because there's nothing to protect a motorcycle rider from the impact of a crash. And when riders get hurt, they need to file a claim against the other driver's insurance company.
Arkansas Motorcycle Accident Fact Sheet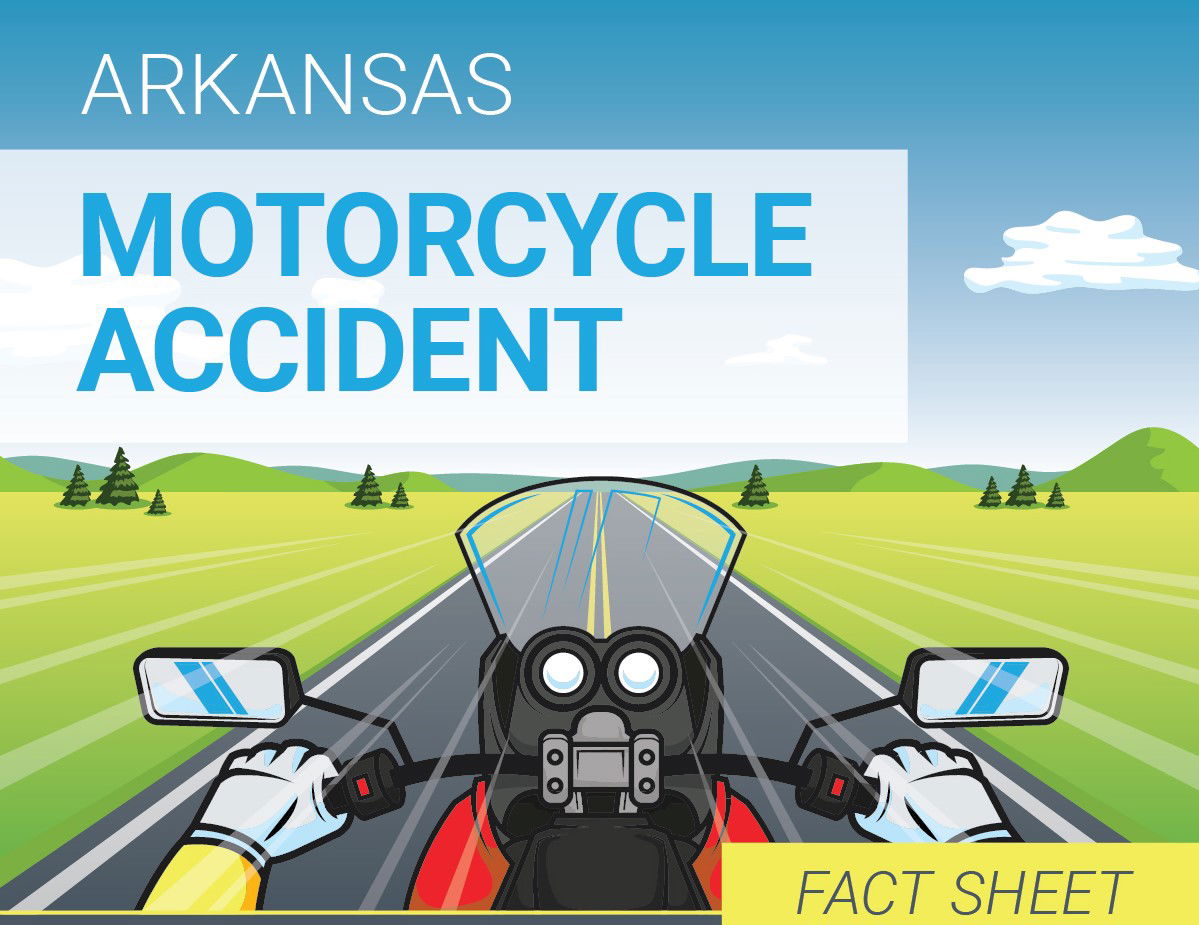 Common Causes of Motorcycle Accidents
Just like car accidents, there are all kinds of things that can cause a motorcycle accident. It depends on where the accident took place. It also depends on what kind of vehicle hits you. Some of the more common causes of motorcycle crashes in Rogers, Arkansas include:
Someone turns left and cuts off the motorcycle drivers
A car or truck shifts lanes and ends up hitting the rider
Your motorcycle gets rear-ended by another motorist
Someone opens their car door and hits your bike as you drive by
Like other states, Arkansas has laws specifically written to protect motorcycle riders. For
example, you have to wear a helmet and eye protection. You also aren't allowed to have a passenger on the back of your bike unless you have a passenger seat. And, children under 8 years old aren't allowed to ride on a motorcycle at all
Common Motorcycle Accident Injuries
Motorcycle accidents tend to cause very serious injuries. This is because you're not protected by two tons of steel like you are in a car or truck. Your Rogers motorcycle accident attorney will fight to get you compensation for your injuries.
Some of the more common injuries caused by motorcycle crashes include:
Whiplash – When your neck gets stretched too far in one direction, you can end up with whiplash. There is no treatment for whiplash. And, since it's impossible to prove, your attorney will have to rely on your doctor's medical records to prove you were injured.
Broken Bones – It's not hard to imagine that you'll suffer multiple broken bones if you get into a motorcycle crash. This will be even worse if you get rolled under your bike or thrown from the motorcycle.
Traumatic Brain Injuries – When you suffer a serious blow to the head, you can end up with a traumatic brain injury. These injuries are very dangerous. Your brain controls everything you do. When your brain is injured, it can affect your entire life.
Burns – You may suffer road burn if you're thrown from your bike. You can also suffer actual burns if your bike catches on fire.
Lacerations – You may get cuts and abrasions on your arms, legs and face. These can be very painful and may require stitches.
Your Rogers motorcycle accident lawyer will fight to get you the compensation you deserve. Ideally, the other driver's insurance will cover your medical expenses. However, if this isn't the case, your attorney can file suit on your behalf.
What Should I Do After My Motorcycle Accident in Rogers?
No matter what type of accident you get into in Rogers, you need to take certain steps to protect your interest. If you don't do this, you risk losing your right to compensation. If you follow these steps, you'll have the best chances at receiving the legal compensation you deserve.
Remove yourself from any immediate danger
You need to make sure you're not in the path of danger. When you get into a motorcycle crash, you may end up getting thrown off your bike. You want to make sure you remove yourself and your bike from the flow of traffic.
The last thing you want to do is get hit by another car or SUV. If you're physically able to move your bike, you should do it. However, if you're too hurt to do this, wait for the police to arrive on the scene.
Call 911 – You need to call the police, even if you think your injuries are minor. The cops will arrange for everyone to get immediate medical treatment. They'll also conduct a thorough investigation to see what caused the crash. The police will prepare a report that your Rogers motorcycle accident can use in court to prove your case. There is valuable information in this report that you won't be able to get any other way.
Get as much information as possible – If you're able to do it, try to get as much information as you can. Ask the other driver for their license and insurance information. Try to get contact information as well.
You should also take pictures of the scene and the vehicles involved. If there are any eye witnesses, ask for their contact information. They may not be willing to provide this. If that's the case, don't press them. Let the cops get their information and they'll include it in the police report.
Seek immediate medical treatment – Even if you don't think you're hurt, you need to get medical treatment. Go to the hospital immediately after your motorcycle accident in Rogers. They can do the necessary tests to see if you're injured. They'll also provide you with medical documentation of your injuries,
Motorcycle Accident Statistics in Arkansas
Your Rogers motorcycle accident lawyer knows the statistics for motorcycle crashes in Arkansas. For the year 2011, there were over 1,400 motorcycle, moped and ATV crashes in Arkansas.
The good news is that many of these accidents didn't result in serious bodily injuries. However, more motorcycle accident victims die than they do in other sorts of accidents. A lot of these deaths were preventable. About 72% of all fatal motorcycle accidents involved riders who weren't wearing their helmet.
The number of motorcycle accidents have been increasing since 2000. Some years have seen as many as 2,000 crashes. This is why law enforcement has made so many efforts at increasing motorcycle rider awareness.
How Much is My Case Worth?
It's impossible to say exactly how much your accident is worth without speaking to an experienced motorcycle accident attorney in Rogers. They can review your case and give you an idea of what your case may be worth.
In order to recover anything, you need to prove the other driver was at fault. Your attorney will hire the necessary experts to examine your case and determine fault. They'll also rely on your medical records to prove your injuries. This is why it's so important that you seek medical treatment immediately after your crash.
Your Rogers motorcycle accident lawyer will look to see what sources of payment exist in your case. If the other driver had insurance, they'll help you file a claim against their policy. If they weren't insured, you can file a claim against your uninsured motorist's policy.
Your lawyer will also check to see if there are other potential defendants in your case. If the person who hit you was on the clock at the time of the crash, you may have a claim against their employer.
We Handle a Variety of Personal Injury Cases in Rogers, Arkansas
While we have experienced motorcycle accident lawyers on staff, we also handle a variety of personal injury cases. If you've been hurt because of the actions of a third party, you need a seasoned injury attorney by your side.
Some of the injury cases we handle include:
No matter what type of injury you suffer in Rogers, our team of experienced Rogers personal injury lawyers can help. They'll work hard to make sure you get the compensation you deserve. You need to focus on recovering from your injuries. Let our lawyer handle the legal side of things.
Contact an Experienced Motorcycle Accident Attorney Today
If you've been injured in a motorcycle accident, you're going to need to focus on recovering from your injuries. The last thing you need to do is deal with lawyers and insurance companies. You also don't want the insurance company taking advantage of you.
Call and schedule your free initial consultation with the Law Office of Jason M. Hatfield P.A. today. Let us handle the legal side of things while you focus on getting well. The consultation is free and you pay nothing until you settle your case.