Serving Fort Smith, Fayetteville, and Eureka Springs Motorists for Over 20 Years
Motorcycle fatalities have grown exponentially over the last few years, raising people's concerns nationwide. According to the National Highway Traffic Safety Administration (NHTSA), in 2020 alone, there were 5,579 bikers killed, a number that represents 14 percent of all traffic deaths.
This is regarded as the highest number of bikers killed since the Fatality Analysis Reporting System (FARS) began in 1975. According to a recent study by QuoteWizard.com report, Arkansas' rate of fatalities was the third highest in the nation.
Mississippi, Texas, and Arkansas have the highest rate of motorcycle fatalities. Motorcycle fatalities are up 11 percent since 2019 and 23 percent since 2010. Arkansas saw 80 deaths in 2020, a 21 percent increase over 2019. The estimated number of motorcycles registered in the U.S. was approximately 8.32 million in 2020.) The estimated number of motorcycles registered in Arkansas for 2020 was 169,797.
Motorcycle Accidents with the Highest Yearly Death Rates
With the absence of protective gear and other safety features, such as seat belts and airbags in motor vehicles, a motorcyclist's chances of being involved in a severe accident significantly increases. A serious accident can force a biker to a hospital or result in their death.
The NHTSA reports that 42 percent of motorcyclists are killed in single-vehicle crashes involving DUI. When drinking and driving was not a factor, single-vehicle crashes accounted for 39.87 percent of fatal accidents.
Also, a two-wheeled vehicle is not as stable as one with four or more wheels holding it up. Crashing while riding a motorcycle happens at a much higher rate than riding in a car, SUV, pickup truck, or EV.
Motorcycle Models That Have the Highest Crash Rates
There are several factors in play when it comes to motorcycles having accidents. Each make, model, engine size, and design are different. These factors can affect the rate of accidents. The motorcycle with the highest crash rate in the nation is the SuperSports, said to be four times higher than any of the other types of motorcycle vehicle, such as:
Standards;
Sport bikes;
Choppers;
Crosses;
Enduros;
Touring;
Naked;
Street;
Sports;
Cruisers; and
ATVs

.
Supersports are lightweight racing bikes modified for riding on streets and can travel up to 190 miles per hour. Although Supersports are involved in many crashes, any model can be involved in a crash. If you are a biker or know someone who is a biker, contact our office today to discuss your accident and understand what the next best steps are.
The Catastrophe of Fatal Motorcycle Accidents in Arkansas Infographic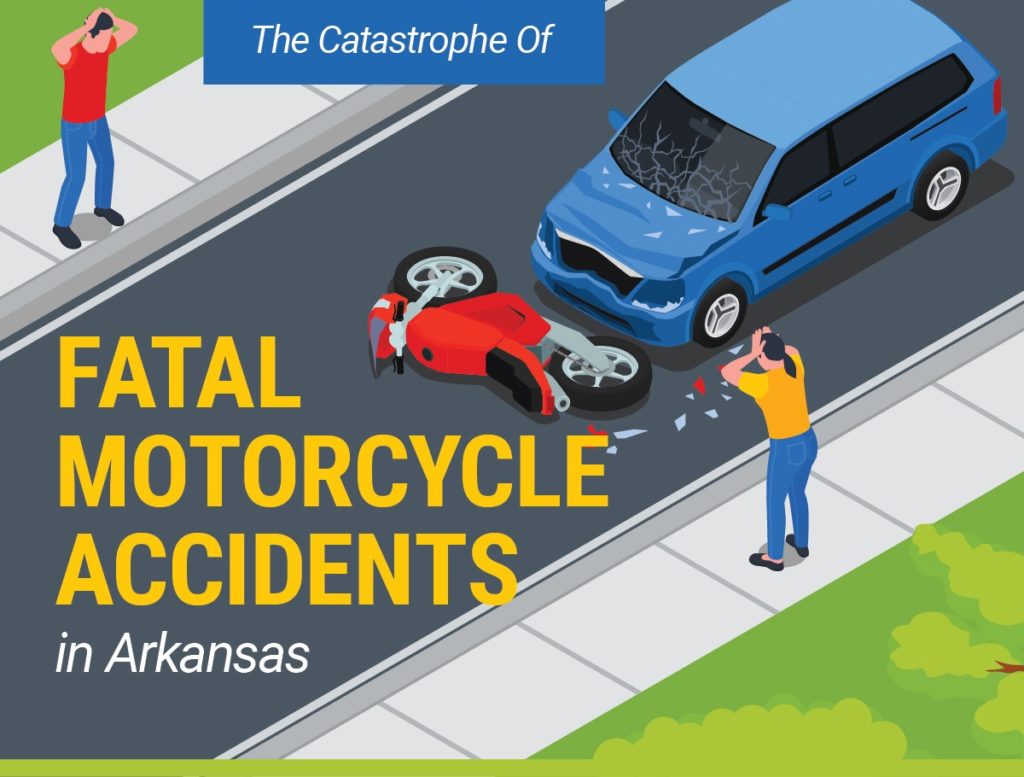 Common Causes of Motorcycle Accidents
Some of the common causes of motorcycle accidents include:
Alcohol and drug impairment;
Corner turning;
Distracted driving;
Drowsy or sleepy driving;
Failure to see the motorcyclist;
Hazardous road conditions;
Head-on collisions;
Improper lane use;
Lane splitting;
Poor or impaired visibility;
Reckless driving;
Road rage;
Speeding; and
Left-Turning Vehicles.
Common injuries suffered by motorcyclists and the frequency of occurrence include the following:
Lower extremity injuries make up 47 percent of collisions.
Upper extremity injuries make up 40 percent of crashes.
Head injuries make up 35 percent of crashes.
Chest injuries make up 31 percent of crashes.
Spine injuries make up 20 percent of crashes.
Abdomen injuries make up 15 percent of crashes.
Steps to Take if You Are Involved in a Motorcycle Accident
Step off to the side, away from danger.
Make sure that you're no longer in the path of danger. If you are physically able to, make sure that you remove yourself from oncoming traffic to prevent getting struck by a vehicle.
Call 911 as soon as possible.
Regardless if you or other drivers involved appear to be okay, it is best to call the police. Seeking medical treatment at a nearby hospital and following up with a physican are crucial. the police report will help your case and allow a Springdale motorcycle accident lawyer to refer to it as evidence to prove your case.
Get contact information from all parties involved.
It is crucial to remember to gather other driver's license and insurance information. Writing down their name, phone number, and address is important. If there are people nearby who stick around and state that they saw what happened, ask them if they are willing to share their contact information in the event that a lawsuit is pursued.
Visit a nearby Arkansas hospital or emergency room after your accident. This will help determine the severity of your injuries. Visiting the ER, your doctor, and specialists provides a paper trail, allowing your Arkansas fatal motorcycle accident attorney to review all medical documentation to craft an effective case on your behalf.
Contact the Fayetteville Office of Jason M. Hatfield Today
If someone you know was involved in a fatal motorcycle crash, contact the Law Office of Jason M. Hatfield by calling 479-361-3575. Our dedicated team of fatal motorcycle accident lawyers is here to help. We serve other surrounding areas such as Bentonville, Fayetteville, Fort Smith, Rogers, and Springdale.
Call us today for a free initial consultation and to find out what you can expect should you file a personal injury lawsuit. We know you have questions, and we can answer them for you. The Law Office of Jason M. Hatfield is just one quick call away: 479-361-3575.