Across the country, it's illegal for an intoxicated person to operate a vehicle. Likewise, it's illegal in Springdale for an intoxicated person to operate a vehicle. It's also illegal in Springdale for an intoxicated person to be in actual physical control of a motor vehicle. This means an intoxicated person who is parked but has the keys in the ignition may still be considered to be in physical control of the vehicle and could be charged with a DWI or DUI. If you've been charged with a DUI or DWI it is always a good idea to consult with an experienced Springdale DWI / DUI lawyer.
At the Law Office of Jason M. Hatfield, P.A., our criminal defense lawyers work your case with you start to finish. At some firms, the first time you meet your lawyer is when you go to court. Our attorneys take time to list and understand you and your situation. You can trust us to take care of the rest once you tell us your story.
So, what does "intoxicated" really mean?
Under Arkansas law, a person is "intoxicated if he or she is "influenced or affected by the ingestion of alcohol, a controlled substance, any intoxicant, or any combination of alcohol, a controlled substance, or an intoxicant, to such a degree that the driver's reactions, motor skills, and judgment are substantially altered and the driver, therefore, constitutes a clear and substantial danger of physical injury or death to himself or herself or another person." Ark. Code Ann. § 5-65-102(4).
What's the Difference Between DUI and DWI in Springdale?
Although people often use the terms "DUI" and "DWI" interchangeably, the two are distinctly different charges under the law.
In Springdale,
DWI (Driving While Intoxicated) is a charge that refers to an adult with a BAC (blood alcohol content) of 0.08 or more.
DUI (Driving Under the Influence) refers to someone under the legal drinking age of 21 with a BAC over 0.02 but less than 0.08.
DUI / DWI Criminal Penalties and Fines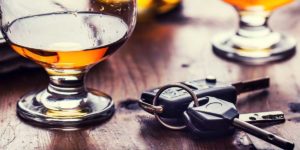 Driver License – If you're convicted of DWI, you will lose your drivers license for a period of time, and the length of time is determined based on various factors, including whether you have had a similar prior conviction. If it is your first DWI, your drivers license may be suspended for 6 months, and you will also face criminal charges.
Jail Time / Fines – A DWI charge is usually a misdemeanor, but it may be a felony if you've been charged with previous DWIs. Penalties in Springdale for a first-time offense may be up to 1 year in jail and a fine of up to $1,000.00. How long you may remain in jail depends on numerous factors, including: your BAC; your prior driving record; prior DWIs or DUIs; whether there was a collision associated with your conviction; whether anyone was injured; whether there were passengers, especially minors; and whether you refused a BAC test. The jail time and fines increase substantially for every additional DWI charge.
Prison Time – With numerous DWI convictions, you may actually face prison time rather than just jail time. On top of that, if your auto insurance company learns of your DUI/DWI, there is a good chance your rates will increase or your coverage may be cancelled altogether.
Drunk Driving Statistics
According to the National Highway Traffic Safety Administration, nearly 29 people in the United States die in alcohol-related car crashes every single day. That is one person every 50 minutes. Because there is no real way to know whether you're over the legal limit or legally intoxicated, it is smartest and safest not to drive at all if you have been drinking or are under the influence of any drugs, even drugs prescribed to you that warn you about driving while taking them. We highly recommend you download the Uber or Lyft app to your phone. An $8 ride will eliminate the risk of criminal charges which saves money, and more importantly, it saves lives.
Experienced DWI / DUI Attorneys in Springdale, Arkansas
Arkansas law prevents prosecutors from reducing or dismissing DWIs. Your only choice is to either plead guilty or go to trial. If you were charged with DUI or DWI in Springdale, you need an experienced DWI lawyer / DUI lawyer who can help you navigate through all the issues that arise. Contact the criminal law attorneys at the Law Office of Jason M. Hatfield today at 479-361-3575. We are here to help.