Issues related to family are sensitive and emotional. However, because we all have families, we're likely to face some type of family problem during our lives. You shouldn't go through this process alone. You need an experienced, dedicated, and compassionate family law lawyer to fight for your rights whether it's through a divorce, getting custody of your children or working out a fair visitation schedule that works for you.
There is not a "one size fits all" solution for you, your family or your situation. At the Law Office of Jason M. Hatfield, P.A. we listen to you, we care about you, and we will work hard to achieve the best possible solutions. We build on established relationships with opposing counsel to achieve amicable resolutions so you can go on with your life. When circumstances prevent amicable resolution, we are prepared to zealously represent yours in court. We also handle a vast array of family-related legal matters from divorce to custody and visitation to advocating for you in Family in Need of Services (FINS) and dependency neglect proceedings with the Department of Human Services (DHS).
Family law matters may include:
Divorce
Child Custody and Visitation
Child Support
Spousal Support
Family in Need of Services (FINS) Proceedings
Dependency Neglect Proceedings
Divorce
When you're considering divorce, you deserve experienced, dedicated, compassionate representation. Tell us your goals, and we will listen to you and devise a plan tailored to your situation. Whether you seek an uncontested divorce or you have tremendous assets to be divided, we can help. Call us today for a consultation, so you can take the first step towards regaining your independence.
Child Custody & Visitation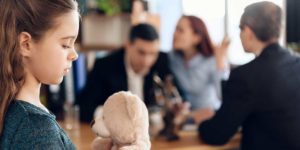 Custody and visitation agreements can be as unique as you and your family. Oftentimes, a joint custody agreement is preferable so parents can share custody and time with their children. However, what makes sense for custody depends on your family's unique situation. Certain factors may prevent a joint custody agreement. Sometimes, one parent has primary custody and there is an agreed visitation schedule for the non-custodial parent. No matter what is the optimal arrangement for your family, we listen to you and we advocate for your rights while we consider the best interest of your children.
Child Support
If we represent you in your divorce, child support may be an important part of the equation. However, even if you're already divorced and support order is in place, you may experience a change in circumstances such as the loss of a job or a change in pay. If you experience a change that you believe requires modification to an existing child support arrangement, let us help.
Spousal Support
The purpose of spousal support is to balance the income after a divorce. In Springdale, there are many factors courts consider when determining whether to award spousal support. The most important factors are one spouse's demonstrated a need for support and the other spouse's ability to pay. You may qualify for either rehabilitative spousal support or permanent spousal support depending on your unique circumstances. Also, call us today to discuss what's right for you.
Family In Need of Services (FINS) Proceedings
Contact us if you believe your family would benefit from court intervention regarding a child who is difficult or impossible to control. If your child habitually skips school, is unreasonably or unlawfully disobedient and refuses to listen, runs away from home or needs counseling or other services, call the Law Office of Jason M. Hatfield, P.A. We will listen to you and explore every option available to help your family and your child.
Dependency Neglect Proceedings
If you're being investigated by the Department of Human Services (DHS) regarding the well being of your children, you need competent, experienced, and compassionate representation. Call us today to discuss your situation and explore options for your family.
Contact a Springdale Family Law Attorney
Lastly, contact the Law Office of Jason M. Hatfield, P.A. today at 479-361-3575 for a consultation. Let's discuss the situation you face and explore potential avenues for resolution. Fees are contingent upon specific services sought and your situation.